"I can't imagine Connecticut, and Hartford, without Real Art Ways." – Hong Hong, Interdisciplinary Artist & Hartford Resident
Creative Cocktail Hour represents the best of Real Art Ways. For 16 years we've gathered on the third Thursday of every month to celebrate people. Why do we do this? It's simple: our community inspires us.
Each month we ask:
"What interesting things are happening out there? Who can we bring together?"
We delve into a real process with real people to ignite meaningful collaboration. We create a space for people to be recognized, welcomed and supported. People make deep and enduring connections here.
Every month we present local, national and international artists, creative leaders, and visionaries who share their gifts and talents. From performances, readings and storytelling to local food, live music and dancing, Creative Cocktail Hour is a night of excitement and celebration.
Everyone is welcome! All ages, all backgrounds.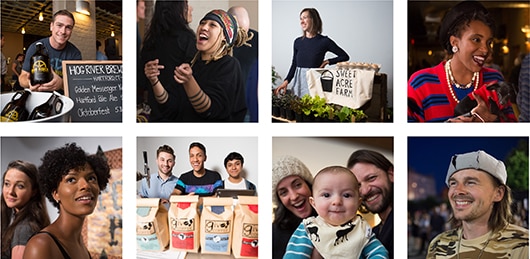 November
– Beer Tastings | 5 – 7 PM
Plus a special screening of Brewmaster at 5:45 PM
– Live Music | 7 – 10 PM
"Love's Expansion" a special evening of sounds, orchestrated by Chad Browne-Springer of Phat A$tronaut.
– Exhibitions on view:
Lauren Bakst: Group (NEW)
Hong Hong: Dark Segment
Noé Jimenez: Real Wall
Maggie Nowinski: Drawn Whole
Sofia Plater: Cultch
Belam Soto: Intangible Proximity
– Food Truck: Baba Ghanoush Food Truck
– Bicyclists – Ride to Creative Cocktail Hour and get in for $5. RAW members on bikes get in free.