Event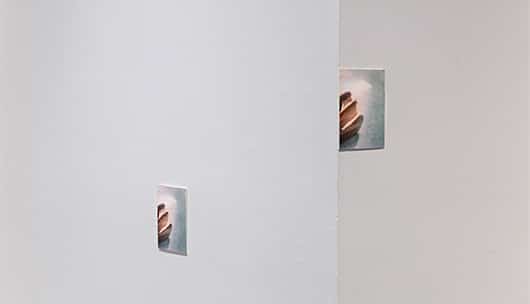 ARTS
A Temporary Weight
Roni Aviv
Real Art Ways presents a solo exhibition by Roni Aviv. Curated by Cody Boyce.
Aviv stages and photographs flat surfaces to comment on the opacity and invisibility of experiences in everyday life. She traces, erases, attaches and spills, pointing to material metaphors that address the difficulties of literal expression. Through her work, Aviv navigates the gaps between experience, language and image. Words become part of a larger story, where the paper's surface is as important as the letterforms atop it. A motif of floods and minor aftermaths is woven throughout the exhibition, with paper holding the weight of the words mixed with water and ink.
In the book under standing, Aviv meditates on inner conflicts and psychological processing. A thread of actions and reactions builds tension as a fragmented narrative is slowly revealed through the examination of found texts: hand traced pieces from a psychology book, web engine answers, an apology letter. Elements of the source material are intertwined with photographs, creating an expressive material play. Words are traced to paper, embossed on napkins, erased and rubbed with bare hands, glued together. Touch and affect are explored through mark-making and residue. Aviv uses material failures to look at emotional instability alongside resilience.
About the Artist
Roni Aviv is a photographer based in New York. Aviv holds an MFA in Visual Arts from Columbia University and studied photography at Cooper Union and Bezalel Academy of Art. Her work has been published and exhibited internationally. Recent exhibitions include Longwood Art Gallery, Tiger Strikes Asteroid, Steve Turner Gallery, The Jewish Museum and Indie Gallery. Aviv has recently been published in BOMB, GRANTA, Erev Rav, and Lines Inside by TSA_PDF magazines. Recent residencies and fellowships include NARS Foundation (2021), Center for Book Arts (2022) and AIM Bronx Museum (2023).
Supported by the Andy Warhol Foundation for the Visual Arts.