Held every third Thursday of the month. A diverse group of cool cats and outcasts gathers to experience art and connect with one another.
We want all our visitors and supporters to know that Real Art Ways' approach to safety of staff and the public during Covid has been, and continues to be, based on the best public health thinking in the world.
A healthy community, and a healthy workplace, has always been, and will always be, at the heart of what Real Art Ways stands for. We will continue being vigilant. Please be safe, and we hope to see you soon.
A local blogger once called our Creative Cocktail Hour a "rite of passage for anyone who wants to call herself a Hartford resident."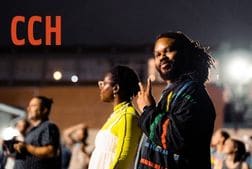 Creative Cocktail Hour Apr 20