Students on staff.
Hartford students are working and learning as part of the Real Art Ways team.
---
---
---
---
---
---
Each year, Real Art Ways hires student apprentices, giving local high-schoolers the chance to learn from within the arts community and gain experience in a non-profit setting. During their time here, apprentices work with every staff member, taking on projects from all of our program areas including administration, marketing, visual arts, cinema and education.
The Real Apprentices program brings together students from diverse backgrounds for a year-round paid apprenticeship exploring arts at a non-profit organization.
---
Meet our 2016-17 Real Apprentices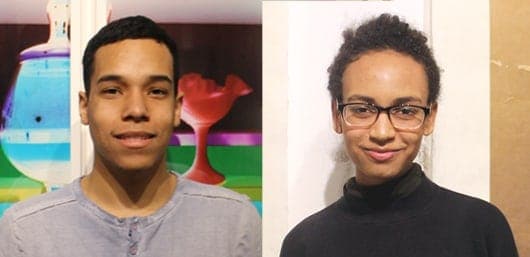 Left: Eric Bueno (EB) is a senior at Hartford Public High School Academy of Engineering and Green Technology.
Right: Kholoud Mohamed (KM) is a senior at University High School of Science & Engineering.
What was your immediate reaction when you were offered the job as a Real Apprentice?
EB: My initial reaction was definitely excitement. Being a part of RAW last year (Ed: Eric was a Teens for Real participant last year!) was a really rewarding experience and having the chance to work behind the scenes now makes me very happy.
KM: I was very ecstatic to work in an art gallery, where I can focus on my creative ambitions and be around people who genuinely care about reaching out to the community through the arts.
Anything funny or memorable happen so far while at work that you want to share?
EB: I nearly walked in front of the projector while a movie was playing.
KM: While setting up for an event with Front of House Manager Jess Martel, a storage rack with wheels was used to bring heavy furniture from one area of the gallery to another. After setting up, I decided to take a ride across the gallery!
What do you want to learn and/or get better at while working at Real Art Ways?
EB: I want to get better at thinking on my feet and talking to people.
KM: When I shared my interest in films with the RAW staff, they were very quick to get me involved in their Cinema department. I have been able to research films before the screenings. My work is very personalized and and I receive access to many experiences that ultimately help me in my creative endeavors.
What do you want to be doing in 4 years?
EB: My goal is to be studying to be a high school science teacher, preferably in chemistry or physics.
KM: Working with film distribution companies and making films; ultimately I want to work in an environment that concentrates on the preservation of culture/art.
When going to a museum or gallery what excites you most? What kind of work do you engage with most, and why do you think that is?
EB: Any kind of three dimensional pieces immediately grab my attention. I really enjoy being able to see it from different angles and trying to see how the artist pieced everything together and why.
KM: When I visit a museum I immediately run toward the video installations, I love moving pictures!
What do you think you are contributing to our community through your apprenticeship here?
EB: I think I'm helping create a space where teens can express themselves without the restrictions normally associated with schools.
KM: Real Art Ways does a great job of connecting the community with the arts. I enjoy working with others. Whether it's passing out flyers and greeting 200+ visitors or working with youth to organize an event, it's always a great time!
What is your proudest accomplishment thus far in life?
EB: My chimpanzee impression. Oh and I'm valedictorian of my class.
KM: I had my first film screened at Real Art Ways Cinema! And people attended! Which will always leave its imprint on my memory! (Ed: Kholoud first spent time at RAW as an Eye on Video summer participant).
---
Questions? Ask Lindsey: lfyfe@realartways.org