Event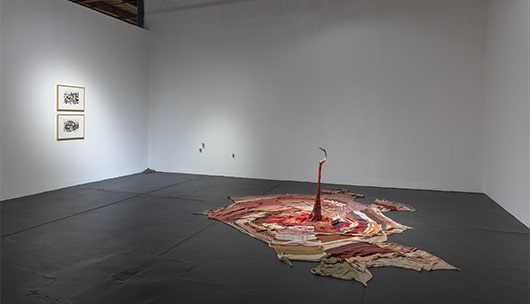 ARTS
parir los pétalos
Romina Chuls
Real Art Ways presents a solo exhibition by 2022 Real Art Award recipient Romina Chuls.
Researcher and multidisciplinary artist Romina Chuls explores feminist issues surrounding Peruvian and Latin American women in their daily lives. Through drawing, sculpture, indigenous embroidery and knitting techniques, Chuls scrutinizes territorial demarcation, nationalism, and sexual and reproductive rights.
In the exhibition parir los pétalos (translating to 'give birth to the petals'), Chuls imagines a ceremony of physical, emotional and spiritual abortions defined by interdependencies and pleasure. A recent sculptural series of ceramics and textiles represents vestiges of past and future abortion practices, augmented by cross-knit looping relating to a Nasca mantle dated 100 – 300 CE (currently in the collection of the Brooklyn Museum). The graphite drawings of Embriones Huaco similarly reference the forms from Nasca and Mochica huacos, with cross-knit looping puncturing the paper surface. Informed by her study of pre-Hispanic textiles and ceramics archives, Chuls articulates an understanding of abortion as part of a collective and more-than-human fertility cycle.
About the Artist
Romina Chuls (b. 1991, Lima) holds an M.A in Arts Politics from NYU Tisch School of the Arts and a  Bachelor in Fine Arts, with a major in painting, from the Pontificia Universidad Católica del Peru. Later, Romina continued her training with several Peruvian pre-hispanic textile courses, such as brocade weaving, Paracas ringed knitting and backstrap weaving. She completed a residency focus on Mexican embroidery at Arquetopia (2017), in Oaxaca, Mexico. She participated in the Artists in Residence program at Textile Arts Center (2018-2019) and she was granted a residency at Gasworks ceramic studio (2019), both in New York City.
About the Real Art Awards
The Real Art Awards is an annual opportunity for emerging artists living in New England, New Jersey, or New York. The open call, offered with no entry fees to artists, attracts hundreds of applicants each year, of which 6 artists are chosen. Selected artists receive a solo exhibition, with a commissioned essay, professional documentation, and a cash prize of $2,500. The 2022 Real Art Awards was juried by multidisciplinary artist Carlos Motta, curator and creative strategist Yona Backer, and Real Art Ways Executive Director Will K. Wilkins. The 2022 Real Art Awards is supported in part by awards from the National Endowment for the Arts and the Edward C. & Ann T. Roberts Foundation.