Event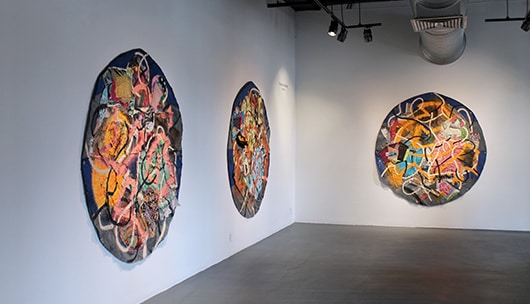 ARTS
'Round About Midnight
Alan Neider
Real Art Ways presents a solo exhibition by Alan Neider. Curated by David Borawski.
Neider's circular paintings incorporate quilted moving blankets and fabric, handled in an expressive and gestural manner. Working on up to ten pieces at once, Neider feels his studio process leads to moments of surprise, where paintings begin to inform one another.
"My work has always been about painting. I built out from the surface of my first paintings because the forms needed to come out into space…I create/build difficult and challenging surfaces to paint. I believe these surfaces in conjunction with the inherent textures of wood, fabric and ceramics lead to a richer, more complex experience."
For Neider, color, patterns, and texture from found fabrics are "used as a stand in for painting. The fabrics are cut into random shapes, sewn onto the substrates in a collaged manner. This step is repeated a number of times until a visually complex, thick textured surface is created. The painting process often takes months to complete since I work in layers and spend a great deal of time 'looking' at the work(s)."
'Round About Midnight brings together work from Neider's Circle Paintings series, alongside a smaller piece from Loops in Space.
About the Artist
Alan Neider received an AA from El Camino Jr. College, a BA in Ceramics from California State Un. at Long Beach, an MFA in Sculpture from Washington Un. in St. Louis, MO. While in graduate school he received a Robert Rauschenberg Change Inc. Work Grant and was accepted into the MacDowell Artists Colony. Moving to Chicago, he was represented by the Jan Cicero Gallery and later the Nancy Lurie Gallery. In Chicago, he was commissioned to create a free-standing painting on top of Navy Pier. He was selected to The CETA artists in residence program in Chicago. He was also represented by the Henri Gallery in Washington, DC. Neider moved to the East coast in 1980, where he has continued his painting practice. Neider has had two solo exhibitions in CT, a solo show in Bushwick, NY and a solo show in Montclair, NJ. He has been in group exhibitions including Galerie Kremers in Berlin, the 490 Atlantic Gallery, the Overlook Gallery in Chicago, IL, the Carter-Burden Gallery in Chelsea, NY, Equity Gallery, NY, Un. of WI, Lowe Museum, FL. Ten paintings titled Hot Loops were installed in five large windows at Saks Fifth Ave., Toronto. Neider was invited to the Cutlog Art Fair, NYC, 2014 and the Spring Break Art Fair, NYC, 2020. In 2002 he received a grant from the CT Commission on the Arts.
Supported by the Andy Warhol Foundation for the Visual Arts.