Event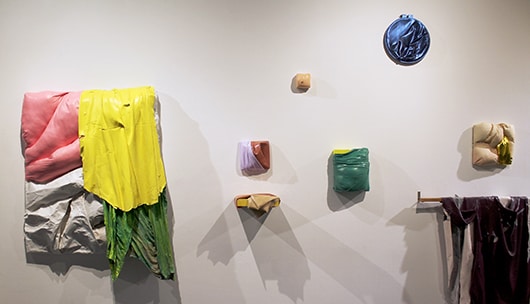 Real Art Ways presents a Real Wall installation by Karl Goulet. Curated by David Borawski.
Goulet works between painting and sculpture to create layered abstract forms that embody concepts of identity and memory. In Goulet's words, these works "glorify larger bodies – bodies that aren't typically represented or appreciated in our society." Using acrylic, latex, paper and fabric, Goulet connects "the physicality of [his] materials with the fleshiness of the body."
"There is a powerful negative public mentality that plus-sized bodies are shameful or undesired and should be hidden or covered, which has always tormented me. I want to use this series to embrace a change in mentality and to become more comfortable in my own skin by revealing and emphasizing the power of fat and flesh."
Real Wall is a series of wall-mounted exhibitions taking place in between formal gallery spaces. Artists are invited to experiment with the space in short-run exhibitions.
About the Artist
Karl Goulet was born and raised in northwest Connecticut. He received his Bachelors of Fine Arts Degree in Painting from the Hartford Art School, University of Hartford, in 2014. In 2012, Goulet began an internship at Five Points Gallery, where he has grown through the ranks and is currently the full-time Gallery Director and co-curator at Five Points Gallery, the flagship location of the Five Points Center for the Visual Arts. As a curator, Goulet has worked to curate over 100 group and solo exhibitions, working alongside hundreds of artists from across the world. Outside of Five Points, Goulet has served as juror and curator for multiple exhibitions throughout CT including for The Warner Theatre, Melanie Carr Gallery, and Trinity Lime Rock Gallery. Goulet has had the opportunity to work with the DECD, Connecticut Office of the Arts as a juror for Public Art in 2018 and as a judge for the Litchfield Hills Creative Awards in 2019. Also in 2019, he was selected to speak on a three-person panel on the role of artists in the community and as an artist and activist at the University of Hartford's Alumni Forum. Goulet creates work across multiple disciplines including painting, drawing, sculpture, and mixed-media. Goulet has exhibited his work nationally. He is a member of the Five Points Launchpad. In 2021, he was awarded an Emerging Recognition Fellowship from the Connecticut Office of the Arts.