Event
Live music, art exhibitions, DJ, and you. Come as you are.
A monthly experience of art, community, and connection in Hartford.
Everybody is welcome, conversations abound, people connect.
Come with friends, come by yourself, hangout. Creative Cocktail Hour is a great way to meet new people!
Featuring:
Live Music: Nelson Bello & Friends: funk, soul, rhythm and blues with Nelson Bello on percussion, Dexter Pettaway on drums, Simone Moñe on vocals, Kris Jensen on saxophone, Asa Livingston on bass, and Jeremiah Fuller on piano.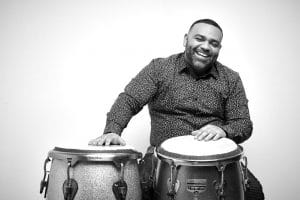 Music from DJ Mr. Realistic
Art Exhibitions from: 
Paloma Izquierdo, Miguel Gaydosh, Matthew Schreiber, Laura Henriksen, Jeremy Toussaint-Baptiste, Dylan Hausthor
Park Art Celebration:
Every year, Real Art Ways offers free art making workshops for kids in our neighborhood in the park across the street! Please join us at our End of Park Art Celebration, starting at 5pm (leading into a performance at 6:15pm as a part of CCH – free before 6:00pm).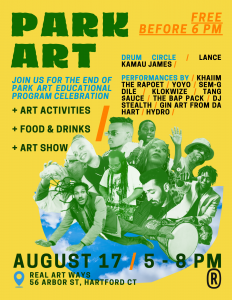 Food Truck: Rolling Roti & East-West Grille
Hands-on Art Making Activities led by Real Art Ways staff
& You!
Creative Cocktail Hour is about community and expression.
Buy your tickets online and skip the line at the door!