Event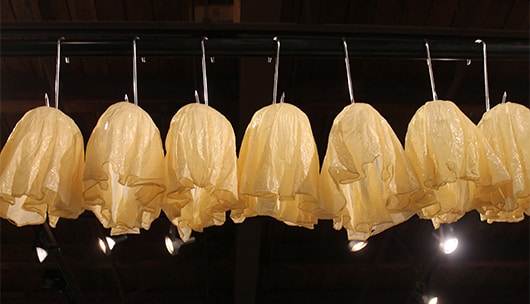 ARTS
Burn the Midnight Oil
Ying Ye
Real Art Ways presents a solo exhibition by 2022 Real Art Award recipient Ying Ye.
Through her work, Ye links food, labor, and the body to themes of cultural identity, intergenerational trauma, and systemic oppression experienced by many Asian Americans. Throughout Burn the Midnight Oil, Ye examines the use of soybeans in the making of tofu (especially in the form of fragile tofu skin), referencing the process as a metaphor for her family's experience as Chinese immigrants and workers in the food industry. Combining elements of performance, sculpture, video, and text, Ye looks toward community building and shared resources as a way to heal from the stresses of life under capitalism.

About the Artist
Ying Ye is an interdisciplinary Chinese artist who incorporates her family's tradition of cooking into her work. Ye's work addresses the "burden that younger generations of Asians and Asian Americans [experience] in American culture." Ye has exhibited at venues including Farmington Valley Arts Center, Five Points Gallery, and the Ely Center of Contemporary Art in New Haven. Ye earned a BFA in Painting and Sculpture from Hartford Art School at the University of Hartford in 2019.
Artist Talk Thursday, 10/5 at 5:30pm with Billie Lee of the Hartford Art School:
Ying Ye will discuss her artistic practice and delve deeper into her exhibition Burn the Midnight at Real Art Ways. This artist talk will combine elements of performance and discussion. Ye will perform part of her interactive piece of the exhibition – creating traditional dishes made of tofu and offering them to audience members. After the performance, she will delve deeper into her artistic practice and the making of Burn the Midnight Oil with University of Hartford Professor Billie Lee. Audience members will also have an opportunity to ask Ye questions about the work.
About the Real Art Awards
The Real Art Awards is an annual opportunity for emerging artists living in New England, New Jersey, or New York. The open call, offered with no entry fees to artists, attracts hundreds of applicants each year, of which 6 artists are chosen. Selected artists receive a solo exhibition, with a commissioned essay, professional documentation, and a cash prize of $2,500. The 2022 Real Art Awards was juried by multidisciplinary artist Carlos Motta, curator and creative strategist Yona Backer, and Real Art Ways Executive Director Will K. Wilkins. The 2022 Real Art Awards is supported in part by awards from the National Endowment for the Arts and the Edward C. & Ann T. Roberts Foundation.