Event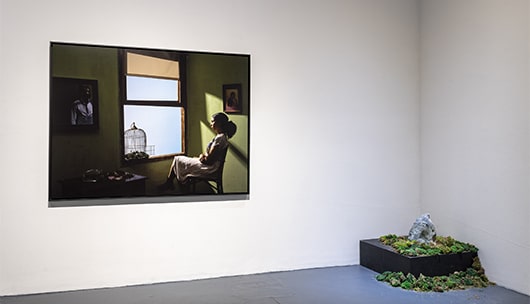 ARTS
Your Absence Is My Monument
Merik Goma
Real Art Ways presents a solo exhibition of recent work by 2021 Real Art Award recipient Merik Goma.
In Your Absence Is My Monument, photographer Merik Goma explores loss through implied narrative and surreal atmosphere. Of the work on view, the artist shares:
"After the loss of a close friend and then my grandmother, I came face to face with a new understanding of absence in my life. Grappling over this concept and my internal dialogue, I wondered if there is ever room for absence to exist. And by invoking the presence of absence, does something else take its place? Looking at the climate of this moment, this idea resonates with how so many of us are without family, stability, and certainty on a massive scale. Reflecting on my narrative practice of set building and re-examining contemporary themes, it feels urgent to bring this work into a public space."
About The Artist:
Merik Goma is a New Haven-based photographer and recent graduate of the NXTHVN Studio Fellowship Program, an arts incubator founded by renowned artist Titus Kaphar. Goma builds intricate sets within his studio that he uses both as subjects of tableaux and as backdrops for narrative portrait photography. His technique is painterly in execution, with close attention paid to color and lighting. His work has been shown by Tilton Gallery, and is in the collection of Yale University. In 2021, Goma was selected as the Joyce C. Willis Artist in Residence by the Amistad Center for Arts & Culture at the Wadsworth Atheneum. As part of the residency, Goma will present a solo exhibition in 2023.
About the Real Art Awards:
The Real Art Awards is an annual opportunity for emerging artists living in New England, New Jersey, or New York. The open call, offered with no entry fees to artists, attracts hundreds of applicants each year, of which 6 artists are chosen. Selected artists receive a solo exhibition, with a commissioned essay, professional documentation, and a cash prize of $2,500. The 2021 Real Art Awards was juried by artist and writer Kameelah Janan Rasheed; Hasan Elahi, artist and Director of the School of Art at George Mason University; and Real Art Ways Executive Director Will K. Wilkins. The 2021 Real Art Awards is supported in part by an award from the National Endowment for the Arts.
Welcoming You Back Safely:
As you return to our physical space, your health and safety is our top priority. To learn about all the steps we have taken to prepare and our new procedures visit our Welcoming You Back page.
Photo Credit: John Groo