Event
FILM
On The Whistle:
TJ Noel-Sullivan
Real Art Ways is pleased to present two private, outdoor, screenings of TJ Noel-Sullivan's thesis film, On The Whistle.
Event Details:
We are converting our parking lot into space for socially distanced gatherings.
"Doors" will open at 7:30.
Bring your own blanket or chairs. We will have food and drinks for sale inside our cafe. Our galleries will be open with limited capacity.
Seating will be limited according to state guidelines and advance reservations are required to attend.
When making reservations, you will need to reserve one ticket per person in your party (with a maximum of 4 people per party.)  Seating will be socially distanced in pods.
We have updated our health and safety protocols to welcome you into our space. You can read more about them HERE.
Synopsis:
On The Whistle is TJ Noel-Sullivan's thesis film from Yale University. It follows Luke Adley, the former star of the Granby High basketball team, who transfers to Hartford after his mom is appointed superintendent. Luke's expectations for his new team are quickly dampened by the arrival of Coach Darryl Weaver, who expects total control of his gym, and the complete respect of his players. The first day of tryouts leaves Luke exhausted and dispirited. That night he vents to his mother and returns to find she's called to complain. Realizing his spot on the team is in serious jeopardy, Luke must step up his game and learn to bite his tongue. The 20-minute film serves as a proof of concept for the feature-length version which is currently in development.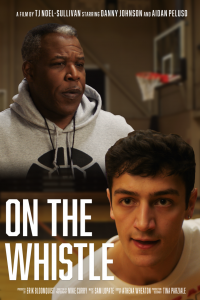 Bio:
TJ Noel-Sullivan is a Hartford native and a graduate of Classical Magnet School, the primary location of the film. In 2015 TJ was an apprentice at Real Art Ways' Eye on Video summer program, which launched his passion for narrative filmmaking. For the last two summers, TJ has worked as a teaching assistant at the program. He did play basketball throughout high school, though he was never very good, and he graduated from Yale University with a degree in Film Studies in May of 2020. TJ's goal is to remain in Hartford and purse a career in filmmaking, and he is currently working on a range of narrative and commercial projects.
Acknowledgments:
This film could not have happened without the generous support of many organizations, including Real Art Ways, Classical Magnet School, Salute Restaurant, Saturday Hoopsters, Revisionist Films, and many more.