Four screenings daily, every day of the week.
Real Art Ways shows the best of indie and international cinema.
---
---
New films typically open on Friday with daily screenings through the following Thursday.
The end dates shown in the schedule below are not always final! We may hold over a popular film for an additional week(s). Other times, a film may be held over for screenings on Saturdays and Sundays, so check our website frequently for the latest information.
You can also subscribe to our Weekly eNews to stay in the know.
Enjoy discounts on movie tickets with a Real Art Ways Membership!
Coming Soon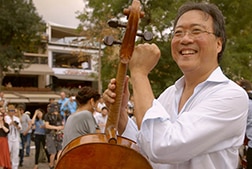 Science on Screen: The Music of Strangers: Yo-Yo Ma and the Silk Road Ensemble
Jun 19
Pavarotti
Jun 21 - Jun 27
Woodstock: Three Days that Defined a Generation
Jun 21 - Jun 27
The Reports on Sarah and Saleem
Jun 28 - Jul 4
Echo in the Canyon
Jun 28 - Jul 4
The Raft
Jul 5 - Jul 11
Leto
Jul 5 - Jul 11
Back to the Fatherland
Jul 5 - Jul 11
Toni Morrison: The Pieces I Am
Jul 12 - Jul 18
Wild Rose
Jul 12 - Jul 18
In the Aisles
Jul 19 - Jul 25
The Other Story
Jul 19 - Jul 25
Firecrackers
Jul 26 - Aug 1
Rojo
Jul 26 - Aug 1