Event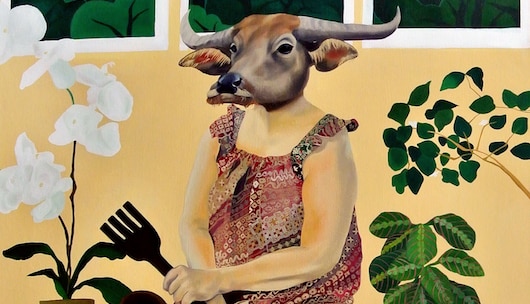 ARTS
Jeanne Jalandoni: Sowing Mythology
Real Art Ways presents new work by 2019 Real Art Awards recipient Jeanne Jalandoni.
Exhibition extended to February 14, 2020.
Artist Talk: Saturday, November 9 | 2:30 PM
Rooted in her experience as a second-generation New Yorker, Jeanne Jalandoni creates paintings and installations that investigate the complicated ideas surrounding Fillipino American identity. Jalandoni uses a mixed media approach that evokes the nature of experiencing a bicultural existence. Her paintings mimic imagery from the Boxer Codex, an anonymous 16th century Spanish manuscript that ultimately created stereotypes of pre-colonization people of the Phillipine Archipelago. Image: The Duster, 2018. Acrylic, oil, trim on canvas and stitched fabric, 60″ x 36″.
From Jalandoni's Artist Statement
Combining media and materials parallels bicultural identity; a mixture of experiences that were essential to my upbringing and cultural inheritance. I am expected to sustain them, but am subject to disassociate because I am "American" before I am "Filipino." This tension between "real" and "imagined" elements in my paintings invites viewers to question bicultural tangibility, while allowing me to explore and take authorship of my identity.
About the Artist
Jeanne F. Jalandoni (b. New York, NY) lives and works in Uptown Manhattan. She works primarily with oil paint and textile. Jalandoni received her BFA from New York University with a concentration in painting. In 2018, she was an artist-in-residence at 36 Chase & Barns Residency (North Adams, MA; affiliated with Erica Broussard Gallery, Santa Ana, CA). Her studio is located at Cornerstone Studios in Washington Heights, NY.
Click here to learn more about her work.
Click here to learn more about the Real Art Awards.
The 2019 Real Art Awards is supported in part by the National Endowment of the Arts.

"I was immediately impressed with the amount of care, research, and authenticity that seeps out of Jeanne's paintings. A mixture of food wrappers, hand-printed plush sculptures, and visceral application of oil paint on canvas perfectly captures her ideas of bicultural tangibility. The narratives she weaves through her appropriation of poses from the "Boxer Codex" creates a new concept of what it means to by Fillipino in the diaspora."