Home

Arts

Artist Submissions

Real Art Awards and Exhibitions
---

Real Art Awards and Exhibitions
Supporting emerging artists.
---
---
---
---
---
CALL FOR ENTRIES NOW CLOSED
Emerging artists were invited to submit their work for consideration to The 2019 Real Art Awards at Real Art Ways. Jurors will consider the quality of the artist's work, the innovation evidenced by submitted work, the potential impact of the exhibition on the artist's career and the economic and physical feasibility of the exhibition. Artists should submit work made within the last 3 years. Artists working in all media are welcome.
In addition to a $2,500 prize, six artists will receive a solo exhibit at Real Art Ways in 2019 or 2020, an exhibition publication with essay, curatorial assistance, and the opportunity for an artist talk.
DEADLINE CLOSED: March 29, 11:59 EDT, 2019
JURORS:
Terry Jenoure, Artist / Curator, Director, Augusta Savage Gallery
Olu Oguibe, Artist / Critic
Will K. Wilkins, Executive Director of Real Art Ways
________________________
The 2018 recipients are: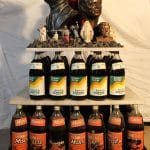 Keith Clougherty: Braintree, Massachusetts
Clougherty blends traditional practice with social practice and video as he explores the role of the artist in society, family, and community.
Work sample: Moxie Tower. Granite slabs, coal, antique beverages, assorted figurines. 38" x 52". 2018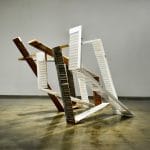 Kylie Ford: Portland, Maine
Ford applies her mastery of woodworking and craft to repurposed materials. Formerly utilitarian structures bend in ways unintended by their original manufacturers, creating something that is both familiar and alien.
Work sample: Object Analogy, 2018, wood and steel, 52″ x 36″ x 48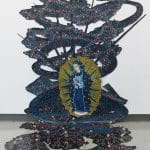 Mateo Nava: New York, New York
Nava's use of Mexican imagery, and his simultaneous rejection of the traditional painting format of stretched canvas on wall, creates a visceral commentary on sentimentality and nostalgia.
Work sample: La llorona, acrylic, dye, fabric, photographs, canvas, paper, glitter, confetti, faux flowers – 2016 – 96″x 75″x 60″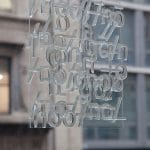 Liona Nyariri: Brooklyn, New York
Nyariri's work examines how an institution understands a collection and the relationships with its creators, especially in the context of colonization and migration. She brings to light the nature of systems, and explores how language and mythology intertwine.
Work sample: The Pidgin /hoo/ /no/ /no/ /go/ /no/ (window to another world) installation view – Clear resin, plexiglass, clear glue – 8″ x 11″ – 2017 – "Pidgin hit the window from inside. It left behind this text which reads hoo no no go no. This is the phonetic form of the phrase Who no know go know."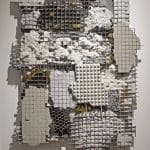 Sofia Plater: Newton, Massachusetts
Plater works with construction materials to create unexpected explorations of aesthetic possibilities. Her work evokes the conflict between natural and man-made architectures; she creates sculptures that are simultaneously organic and synthetic.
Work sample: Cement #2 – 2018 – Medium: Cement, silicone, plastic, metal, live moss – 23"x 30"
2018 Jurors: Saya Woolfalk; New Britain Museum of American Art Director Min Jung Kim; and Real Art Ways Executive Director Will K. Wilkins. The award competition was open at no charge to artists living in New York, New Jersey, Connecticut, Massachusetts, Rhode Island, Vermont, New Hampshire and Maine. 286 artists applied for consideration.