Event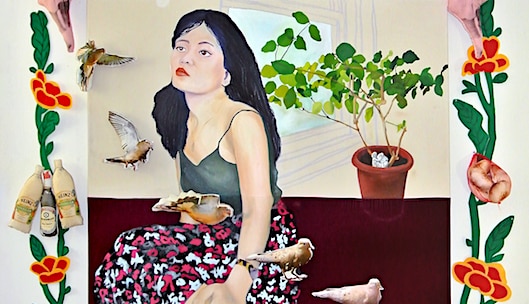 ARTS
Artist Talk: Jeanne Jalandoni
FREE ADMISSION
All are invited to attend an artist conversation and reception with Jeanne Jalandoni, one of six 2019 Real Art Awards recipients. Reception will begin at 2:30 PM with light refreshments and mingling before the conversation begins at 3 PM. Joining her in conversation is Dr Jason Chang, Director of the Asian and Asian American Studies Institute at the University of Connecticut.
Click here to learn more about Sowing Mythology.
From Jalandoni's Artist Statement
Combining media and materials parallels bicultural identity; a mixture of experiences that were essential to my upbringing and cultural inheritance. I am expected to sustain them, but am subject to disassociate because I am "American" before I am "Filipino." This tension between "real" and "imagined" elements in my paintings invites viewers to question bicultural tangibility, while allowing me to explore and take authorship of my identity.
About the Artist
Jeanne F. Jalandoni (b. New York, NY) lives and works in Uptown Manhattan. She works primarily with oil paint and textile. Jalandoni received her BFA from New York University with a concentration in painting. In 2018, she was an artist-in-residence at 36 Chase & Barns Residency (North Adams, MA; affiliated with Erica Broussard Gallery, Santa Ana, CA). Her studio is located at Cornerstone Studios in Washington Heights, NY.
Click here to learn more about her work.
Click here to learn more about the Real Art Awards.
The 2019 Real Art Awards is supported in part by the National Endowment of the Arts.

Image: Mourning Dove, 2019, Jeanne Jalandoni