Event
Live music, art exhibitions, DJ. Come as you are.
Everybody is welcoming, conversations abound, people connect.
Come with friends, come by yourself, hangout. Creative Cocktail Hour is a great way to meet new people!
Music:
Funkrust Brass Band
Funkrust Brass Band is a 20-piece, Brooklyn-based,  post-apocalyptic disco-punk brass band playing all original music with megaphone vocals, heavy tuba bass lines, thundering percussion and searing brass melodies. Their explosive live performances feature full band choreography, signature wasteland/glam uniforms and LED lighting effects. The band mixes post-punk, disco, EDM, metal, and funk with Balkan brass and New Orleans second line sounds, and filters that through the medium of a massive street brass band with a punk rock sensibility.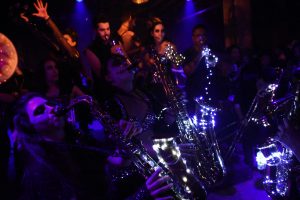 DJ Mr. Realistic:
DJ Mr. Realistic and Real Art Ways have a longstanding relationship! He has been our house DJ for CCH for many years, and is the owner of My House Radio, a multicultural, award-winning internet broadcast radio station focusing on all genres of house music.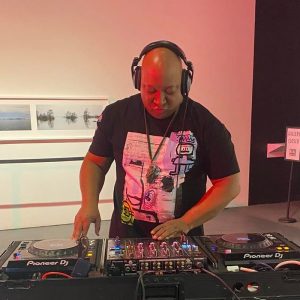 Art Exhibitions:
Exhibition Opening by Real Art Award Recipient Ying Ye!
Barricade – Jim Whitten
Speaking Sentences Backwards –  Paloma Izquierdo, Miguel Gaydosh, Matthew Schreiber, Laura Henriksen, Jeremy Toussaint-Baptiste, and Dylan Hausthor
A Temporary Weight – Roni Aviv
Food Truck:
Hands-on art making activities based on current exhibitions lead by Real Art Ways staff.
CCH will be outside, weather permitting.