Event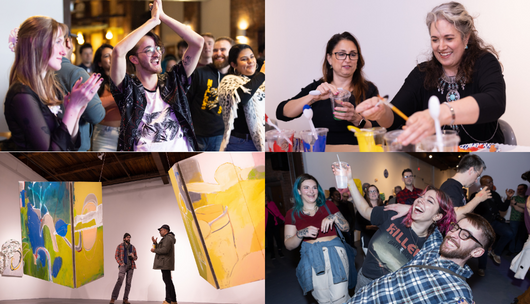 Live music, art exhibitions, food and drinks, and you. Come as you are!
Creative Cocktail Hour is about the people. Everybody is welcome, conversations abound, people connect.
Live Music:
Fabian Almazan – Piano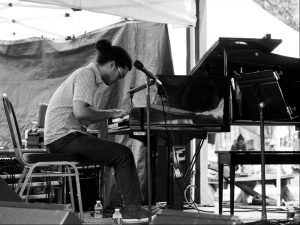 Fabian Almazan is a Cuban-American pianist/composer. During the completion of his jazz piano bachelor's degree at the Manhattan School of Music, Almazan immersed himself in the realm of orchestral composition studying instrumentation and orchestration with Mr. Giampaolo Bracali. He is the founder and director of Biophilia Records and has worked diligently towards ensuring a continued dialogue of awareness concerning music and environmental justice. He has toured his music extensively as well as accompanied artists such as Linda May Han Oh, Terence Blanchard, Gretchen Parlato, John Hollenbeck, Mark Guiliana, Dave Douglass, Avishai Cohen and Ambrose Akinmusire among others.
Awards include 2 Grammy nominations, the SWR New Jazz Meeting commission, the Copland Fund, the Jerome Fund for Emerging Composers Award, the Jazz Gallery Residency, Rockerfeller Brothers Residency, Cintas Foundation Award in Composition and the Sundance Composers' Lab.
For more information on Fabian Almazan, please visit their website.
Linda May Han Oh – Bass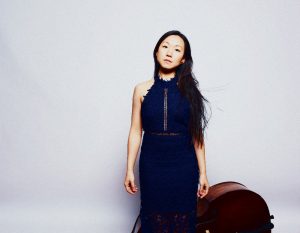 "Her innovative range and stellar improvisations have made [her] one of the most dynamic rising stars in jazz today." – The Wall Street Journal

"Engrossing, shapeshifting… [her] vibrant tone, close control and confident attack immediately established why she is such an in-demand performer." The Financial Times
Linda May Han Oh is a Grammy award-winning bassist and composer and recorded with artists such as Pat Metheny, Kenny Barron, Joe Lovano, Dave Douglas, Terri Lyne Carrington, Steve Wilson, Geri Allen and Vijay Iyer. She was voted the 2018-2021 Bassist of the Year by the Jazz Journalist's Association, as well 2022 Bassist of the Year in Jazztimes. Linda also was voted 2019 Bassist of the Year in Hothouse Magazine and was the 2020 recipient APRA award for Best New Jazz Work. In 2023 she received the prestigious Herb Albert Award for music.
Linda is currently Associate Professor at the Berklee College of Music in the bass department and is also part of the Institute for Jazz and Gender Justice led by Terri Lyne Carrington. Linda was featured on bass in the 2020 Pixar movie "Soul" under the musical direction of Jon Batiste (The Late Show with Stephen Colbert) alongside drummer Roy Haynes and was the model for the character in the film – bassist "Miho."
For more information, please visit her website.
Troy Roberts – Tenor Saxophone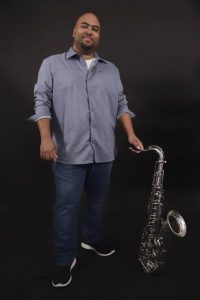 "He amply demonstrates that it's possible to pay homage to the great tenor players of jazz and still create a fresh approach that leaves the listener always in anticipation of what he'll come up with next." – James Morrison
Troy Roberts is a two-time Grammy nominated Australian saxophonist & composer. He is based in New York City, maintaining a busy performance & recording schedule around the globe with some of the greatest jazz artists of today, and is currently celebrating his 14th release, 'Nu-Jive: Nations United' (Toy Robot Music).
Roberts has received numerous accolades including three DownBeat SM Jazz Soloist Awards, 2 Grammy Nominations, and was semi-finalist in the 2008 Thelonious Monk International Jazz Saxophone Competition.  Graduating with a Bachelor of Music at the young age of 19, he has performed around Europe and the US extensively with artists such as Jeff 'Tain' Watts, Joey DeFrancesco, James Morrison, Aretha Franklin, Van Morrison, Christian McBride, Sammy Figueroa, Billy Hart, Dave Douglas, Orrin Evans and Kurt Elling to name a few, and also completed a Masters Degree at The University of Miami.  As an educator, Roberts has presented numerous masterclasses and clinics at prestigious colleges, conservatoriums and universities around the world.
In 2012, he shared the stage in an international septet comprised of jazz giants Wayne Shorter, Richard Bona, Vinnie Colaiuta and Zakir Hussein for Herbie Hancock's launch of International Jazz Day at The UN, NYC.  He was also part of Hancock's 2014 International Jazz Day held in Osaka, Japan performing with jazz luminaries such as Gregory Porter, Marcus Miller, Roy Hargrove, Esperanza Spaulding and John Scofield.  As a long-time New York City resident, Troy maintains a busy performance and recording schedule around the globe with some of the greatest jazz artists of today, and is currently celebrating his fourteenth release as a leader, 'NU-JIVE: Nations United' (Toy Robot Music).
For more information, please visit his website.
Zack O'Farrill – Drums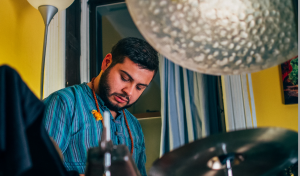 Zack O'Farrill is a multi-racial, multi-cultural, multi-musical artist. He has studied with musicians such as Dave Meade, Vince Cherico, Victor Jones, Kendrick Scott, Justin Dicioccio, John Riley, Miles Okazaki, Roy Nathanson, Arturo O'Farrill, Joe Gonzalez, and many more.  He received a Bachelor's of Fine Arts from the CUNY Macaulay Honors College at City College.  He is currently working on his Master's Degree in Jazz Percussion from the Manhattan School of Music.
O'Farrill is also a dedicated educator who has taught in after-school music programs in New York City since 2010.  He is the director of the Fat Afro Latin Jazz Cats youth big band, which offers free instruction to talented and deserving high school students from all boroughs. He has been a faculty member of the Flynn Center Latin Jazz for Teens camp in Burlington Vermont for 7 years. He also teaches privately at his home in Brooklyn. If you're interested in studying with Zack, click here.
​As a composer Zack has had compositions featured on recordings with the Marquès Stinson O'Farrill Trio, the Eco-Music Big Band, and his composition "There's a Statue of José Martí in Central Park" closes the Afro-Latin Jazz Orchestra's Grammy-winning record Cuba: The Conversation Continues (listen here). Zack currently leads his own quartet, performing his original music, and is in the process of planning his first record as a leader.
For more information, please visit his website.
DJ Mr. Realistic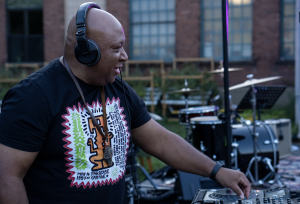 Art Exhibitions:
Alan Neider: 'Round About Midnight 
Three new gallery exhibition openings in our far, middle, and main galleries!
Food Truck
Rolling Roti: an authentic Guyanese food truck serving the downtown Hartford area
Hands-on Art Making Activities led by Real Art Ways Staff
& You!
Creative Cocktail Hour is about community and expression.
Buy your tickets online!