Event
Live music, art exhibitions, DJ. Come as you are.
Everybody is welcoming, conversations abound, people connect.
Come with friends, come by yourself, hangout. Creative Cocktail Hour is a great way to meet new people!
Music:
QUITAPENAS
This tropical Afro-Latin combo borrows aesthetics from the radical 60s, 70s and 80s. Each song echoes a remix of history and invites one to engage in the liberating evenings of Angola, Peru, Colombia, Brazil and beyond. The name means "to remove worries." The mission of QUITAPENAS is simple: to make you dance and leave you without a worry. Using the healing mix of guitar, saxophone, keyboards, bass, and percussion, they will keep you moving to the music all throughout their performance.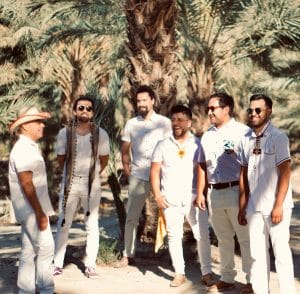 DJ: Sonia Sol
Sonia Sol is a traveling performing artist, open format DJ, singer, and acrobatic dancer currently living / touring in Latin America as well as North America. Born & raised in Hartford, Sonia draws a lot of inspiration from her Jamaican roots incorporating island sounds throughout her show experience. Through her voice she uses an eclectic blend of Neo-Soul, Reggae, & R&B sounds. As an open format DJ she blends all sounds but loves House, Hip-Hop, Afrobeats, and more.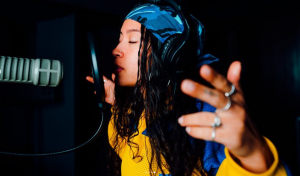 DJ Mr. Realistic:
DJ Mr. Realistic and Real Art Ways have a longstanding relationship! He has been our house DJ for CCH for many years, and is the owner of My House Radio, a multicultural, award-winning internet broadcast radio station focusing on all genres of house music.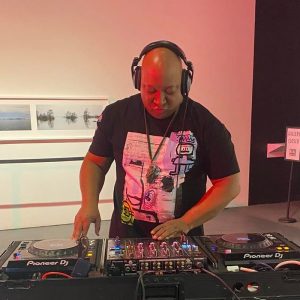 Art Exhibitions:
Exhibition opening in the Real Room:
Barricade, curated by David Borawski
BARRICADE
Who's on one side?
Who's on the other side?
What does one of them want?
What does the other one want?
Will the barricade hold?
If not, how long does it hold for?
Does this extra time provide an opportunity?
Is everyone safe?
Speaking Sentences Backwards –  Paloma Izquierdo, Miguel Gaydosh, Matthew Schreiber, Laura Henriksen, Jeremy Toussaint-Baptiste, and Dylan Hausthor
Food Truck:
Auntie's Pasta
Hands-on art making activities based on current exhibitions.
CCH will be outside starting 6/15 – weather permitting!