Event
96% Fresh on Rotten Tomatoes.
100 years ago 1,200 immigrant miners were violently deported from Bisbee, Arizona.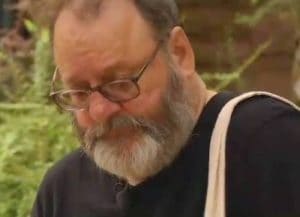 FRIDAY, SEPTEMBER 21: Local people's historian and activist Steve Thornton (pictured left) will lead a post-film discussion to compare the intersection of work, immigration and union organizing in 1917 and the present.
Combining documentary and genre elements, the film follows several members of the close knit community as they collaborate with the filmmakers to commemorate the 100th anniversary of the Bisbee Deportation, where 1200 immigrant miners were violently taken from their homes by a deputized force, shipped to the desert on cattle cars and left to die.
When the last copper mines closed in 1975, the once-booming Bisbee nearly became another Arizona ghost town, but was saved by the arrival of a generation of hippies, artists and eccentrics that give the place its strange vibe today. Bisbee is considered a tiny "blue" dot in the "red" sea of Republican Arizona, but divisions between the lefties in town and the old mining families remain. Bisbee was once known as a White Man's Camp, and that racist past lingers in the air.
As we meet the townspeople, they begin to confront the violent past of the Deportation, a long-buried secret in the old company town. As the 100th anniversary of Bisbee's darkest day approaches, locals dress as characters on both sides of the still-polarizing event, staging dramatic recreations of scenes from the escalating miner's strike that lead to the Deportation. Spaces in town double as past and present; reenactors become ghosts in the haunted streets of the old copper camp.
Richard plays the sheriff in a Western, Fernando portrays a Mexican miner in a Musical, a local politician is in her own telenovela. These and other enacted fantasies mingle with very real reckonings and it all builds towards a massive restaging of the Deportation itself on the exact day of its centennial anniversary.
"…profoundly haunted and haunting film. What we are witnessing is not the commemoration of a past disaster but its reanimation. Every important thing this movie is about is still alive."
"absolutely mesmerizing..."
"Greene peels the layers of oblivion off history like so many layers of paint."
"rich and multifaceted, as Greene employs an array of styles (historical reenactments, direct cinema-style portraiture, musical numbers) to investigate the complex relationship between Bisbee's past and present."