Event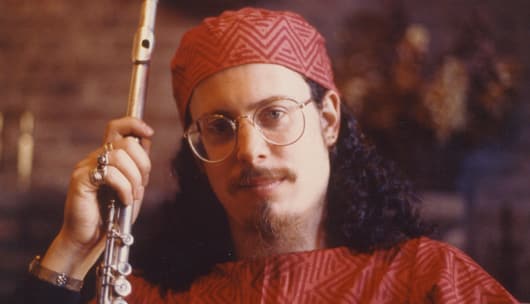 FILM
Thomas Chapin, Night Bird Song
Special Advance Screening
Saxophone and flute master Thomas Chapin died at the age of 40 in 1998. Though his death was untimely, Chapin left his mark on jazz in the '80's and '90's, pushing the music and bending genres. His passionate life and incandescent music are unforgettable to fans who knew him and musicians who played with him.
Hartford, Connecticut is where it all started for Thomas Chapin – growing up in nearby Manchester, playing in clubs as a teenager and throughout his career, studying at Phillips Academy Andover where he discovered the sax, and attending the Hartt School of Music. Chapin played his final performance in Manchester, twelve days before his death on February 13, 1998.
THOMAS CHAPIN, NIGHT BIRD SONG is a testament to Chapin's accomplishments and legacy.
Post-Film Concert
There will be an intermission, and The Whey Station food truck will be parked outside for a quick dinner.
Then, hear a concert of music composed by the man himself, performed by musicians with whom Chapin spent his career playing and performing.
DAVE BALLOU will conduct an hour-long concert, featuring Mario Pavone, Michael Sarin, Peter McEachern, Marty Ehrlich, Tony Malaby, Art Baron, Ben Stapp, and Nick Roseboro.
The concert begins at 6:15 PM on Sunday March 6. Please note that admission to the concert is separate from tickets to the film. Purchase tickets to the concert here.
About the Director
Stephanie Castillo is a former Hawaii newspaper journalist and an Emmy Award-Winning independent filmmaker. She has been developing television documentaries full-time since 1989, and Thomas Chapin, Night Bird Song is her 10th documentary film. Thomas Chapin was Castillo's brother-in-law.
---
DIRECTED BY Stephanie Castillo

RUNTIME 150 MINUTES
with a 20 minute intermission

CINEMA ADMISSION:
REAL ART WAYS MEMBERS: $5
SENIOR & STUDENT MEMBERS: $4.50
REGULAR ADMISSION: $11
SENIORS (65+): $7
FULL-TIME STUDENTS (WITH ID): $7

REAL ART WAYS'S FACILITIES ARE WHEELCHAIR ACCESSIBLE. ASSISTED LISTENING DEVICES ARE AVAILABLE AT THE CAFÉ.
Collaboration and Support
This event is co-presented with the Hartford Jazz Society, WWUH, and the Litchfield Jazz Festival.
"Chapin's prodigious technique on not only alto sax but also soprano sax and flute is abundantly evident...All told, this is simply marvelous jazz music. Chapin's willingness to forge connections between the traditional and avant-garde jazz camps, and to explore the beauty within each, should earn him his distinctive place in the history of this music"
"Chapin knew how to make high art and simultaneously please a crowd. He created new and original sounds without being self-consciously cute or pointlessly outrageous....There was furious and irrepressible energy, but control and calibration were never far behind."
"Chapin...had the imagination that took his compositions into different realms"