Event
ARTS
THE SIREN
Catalina Ouyang
Real Art Ways presents a solo exhibition by artist and 2019 Real Art Award recipient Catalina Ouyang. 
Ouyang's sculptures and installations explore trauma, dissidence, and desire. Ouyang's practice, which the artist frames as "undisciplined," draws holistically from literature, history, myth, and memory, creating objects, videos, and performances that disrupt normative frameworks of identification and self-definition. 
Artist Conversation with Catalina Ouyang and Catherine Damman Recording
For THE SIREN,
Ouyang presents the interactive video installation unable to Title (a reordering of every word written to make sense of [                     ] for Catalina by Amanda, Amber, Amy, Andy, Annelyse, Annie, Ariana, Arisa, Avery, Brighde, Chelsea, Ching-In, Christina, Claire, Diana, Douglas, Edward, Elena, Geoff, Geri, Gowri, Hanif, Heather B., Heather N., Jacklyn, Jane, Jennifer, Jesse, Jessica, Joy, Julia, Julie E., Julie W., Jungmok, Kathryn, Keegan, Keith, Kelly, Kenji, K-Ming, LA, Lara, Larissa, Laura, Lillian, Liz, Luca, Lynn, Marci, Maria, Maryam, Maura, Meredith S., Meredith T., Mia, Molly, Muriel, Nathaniel, Nora, Paul, Philip, Raquel, Robert, Rosebud, Sam, Sara, Sarah G., Sarah S., Sarah V., Sennah, Sharon, Terese, Thylias, Victoria, Xandria, and Yanyi) (2020). Image below: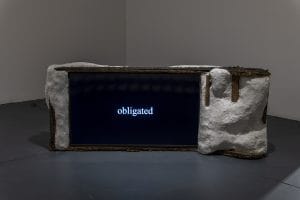 The piece builds upon the artist's ongoing project [Conclusion and Findings] (2017–), in which Ouyang invites hundreds of strangers and friends to "translate" the contents of a 2016 legal document that exonerated Ouyang's rapist. Viewers of the piece are invited to sit on a 19-foot long sculpture titled bitch bench (2017), an elongated figure somewhere between self-portrait and the Capitoline wolf of the founding myth of Rome. 
Ouyang's additional research led to the life and work of Marguerite Yourcenar, who lived with her lover and translator Grace Frick in Hartford while writing Memoirs of Hadrian (1951), a deeply-researched account of the Roman emperor. Yourcenar described historical writing as requiring "a mystical act of identification," which Ouyang echoes in sculptures and drawings dating from 2016-2020. Oriented against master narratives and aspirations of empire, the work trespasses between multiple meanings of "translation" as it has shapeshifted through time: from the ceremonial movement of a saint's relic, to geometric displacement, to linguistic transformation. 
Artist Reception:
A joint reception will be held on Sunday, January 31 from 1-3 PM along with artist Robin Crookall and her solo exhibit Part Fact, Part Aspect. Visitors will be required to wear masks at all times and remain 6 feet apart from those not in your party. Learn about all the steps we have taken to prepare and our new procedures HERE. 
The 2019 Real Art Awards is supported in part by:
An award from the National Endowment for the Arts. Visual Arts at Real Art Ways is supported by the Andy Warhol Foundation for Contemporary Art. This exhibition was made possible with support from Smack Mellon, a Puffin Foundation Grant, and a Foundation for Contemporary Arts Emergency Grant. 
Image caption: bitch bench  2018 / steel, polystyrene, plaster, Celluclay, wood, acrylic, epoxy resin 14 x 227 x 37 inches
Welcoming You Back Safely:
As you return to our physical space, your health and safety is our top priority. To learn about all the steps we have taken to prepare and our new procedures visit our Welcoming You Back page.
"Catalina Ouyang's art falls into a category you might call the sculptural grotesque. Her work, which often features isolated or exaggerated body parts, evokes a kind of surreal humanity...she heightens the sense of otherworldliness by employing unusual materials, including horse tibias and cigarette butts."