Event
EVENTS
Cuatro Puntos Ensemble and
"The Music of Strangers"
This event has sold out.
Event Details:
We are converting our parking lot into space for socially distanced gatherings.
"Doors" will open at 5:30. Music will begin at 6:15 followed by the film at 7:30.
Bring your own blanket or chairs. We will have food and drinks for sale inside our cafe. Our galleries will be open with limited capacity.
Seating will be limited according to state guidelines and advance reservations are required to attend.
Reservations:
When making reservations, you will need to reserve one ticket per person in your party.  Seating will be socially distanced in pods, with a maximum of 4 people per pod.
Parties that do not check in ten minutes before the band begins will have their reservations voided.
Since this event has limited capacity, please inform us through email or by phone if you need to cancel your reservation.
Parking:
For this event, the parking entrance is on Orange Street (not Arbor Street). There will be accessible parking spaces available.
Rain Date:
Friday, September 18
Health and Safety:
We have updated our health and safety protocols to welcome you into our space. You can read more about them HERE.
Music: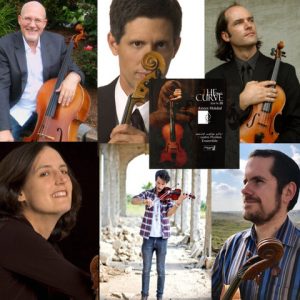 Cuatro Puntos Ensemble
Hartford's Cuatro Puntos Ensemble has earned international acclaim for its genre-defying projects, recordings, and programs that activate music as a pragmatic and universally accessible stimulus for social change, cultural awareness, and empowerment of the underserved.
Support of this concert comes from the Evelyn W. Preston Fund
Movie: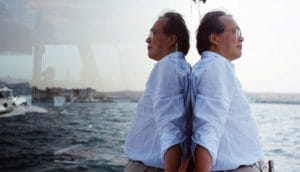 The Music of Strangers: Yo-Yo Ma and the Silk Road Ensemble
"Strangers" is only superficially about music. It's also about cultural identity; the meaning of home; the debt we owe our ancestors (and fellow humans); and the source of creativity."  – Stephanie Merry, Washington Post
"Lovely to watch, it's even more beautiful to hear." – Ken Jaworowski The NYTimes
From the director of the Oscar-winning documentary 20 Feet from Stardom and the critically acclaimed Best of Enemies, the film The Music of Strangers: Yo-Yo Ma and the Silk Road Ensemble tells the extraordinary story of the renowned international musical collective created by legendary cellist Yo-Yo Ma.
The feature-length documentary follows this group of diverse instrumentalists, vocalists, composers, arrangers, visual artists and storytellers as they explore the power of music to preserve tradition, shape cultural evolution and inspire hope.