Event
FILM
Science on Screen: The Birds
Real Art Ways Science on Screen® season invites you to experience the unique combination of a feature film and a relevant talk from a notable local figure in science.
Film: The Birds 
"Alfred Hitchcock has fashioned a major work of cinematic art." – Village Voice

"A thriller classic from the master of suspense." – Empire Magazine

"Unmistakably, one of the master's [Hitchcock's] best." – Austin Chronicle
Melanie Daniels (Tippi Hedren) meets Mitch Brenner (Rod Taylor) in a San Francisco pet store and decides to follow him home. She brings with her the gift of two love birds and they strike up a romance. One day birds start attacking children at Mitch's sisters party. A huge assault starts on the town by attacking birds.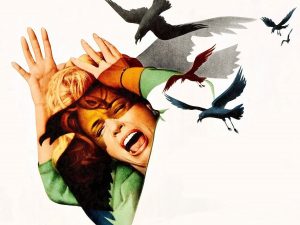 Pre-Film Talk | 6:30 PM 
Dr. Matthew Kamm is a Boston-based wildlife biologist who specializes in ornithology. Matt has studied the natural history of wild birds while working for Mass Audubon and during his Ph.D work at Tufts University, with a focus on understanding songbird migration and the life history of American kestrels. He currently works as the Conservation Outreach Coordinator for Zoo New England.

Science on Screen is an initiative of the COOLIDGE CORNER THEATRE, with major support from the ALFRED P. SLOAN FOUNDATION.