Event
EVENTS
The New Mosaic and
"Standing in the Shadows of Motown"
This event has sold out.
Event Details:
We are converting our parking lot into space for socially distanced gatherings.
"Doors" will open at 5:30. Music will begin at 6:15 followed by the film at 7:30.
Bring your own blanket or chairs. We will have food and drinks for sale inside our cafe. Our galleries will be open with limited capacity.
Seating will be limited according to state guidelines and advance reservations are required to attend.
Reservations:
When making reservations, you will need to reserve one ticket per person in your party.  Seating will be socially distanced in pods, with a maximum of 4 people per pod.
Parties that do not check in ten minutes before the band begins will have their reservations voided.
Since this event has limited capacity, please inform us through email or by phone if you need to cancel your reservation.
Parking:
For this event, the parking entrance is on Orange Street (not Arbor Street). There will be accessible parking spaces available.
Rain Date:
Friday, September 25
Health and Safety:
We have updated our health and safety protocols to welcome you into our space. You can read more about them HERE.
Music: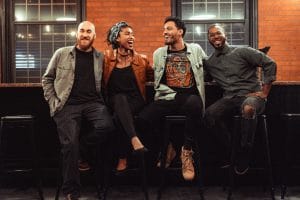 The New Mosaic
Following the 2017 release of her debut solo EP, "Young", Erica T. Bryan of West End Blend brings her powerhouse vocals to a fresh neo-soul project. Together, with Tom Sullivan (West End Blend), Mike Carabello (The Lost Tribe), and Dwayne Keith (The Dwayne Keith Project, Therabeat) the quartet lays down a collage of R&B, funk, and jazz-inspired by the artistry of Erykah Badu, Chaka Khan, Sade and more. Erica T. Bryan and friends present: The New Mosaic.
The group released their debut single, "Out of Body" on February 11th, 2020, available digitally everywhere.
Erica T. Bryan | Vox
Tom Sullivan | Electric + Synth Bass
Mike Carabello | Keys
Dwayne Keith | Drums
Support of this concert comes from the Evelyn W. Preston Fund
Movie: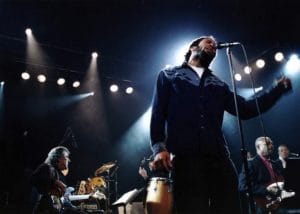 Standing in the Shadows of Motown
91% on Rotten Tomatoes
In 1959, Berry Gordy gathered the best musicians from Detroit's thriving jazz and blues scene to begin cutting songs for his new record company. Over a fourteen year period they were the heartbeat on "My Girl," "Bernadette," "I Was Made to Love Her," and every other hit from Motown's Detroit era. By the end of their phenomenal run, this unheralded group of musicians had played on more number ones hits than the Beach Boys, the Rolling Stones, Elvis and the Beatles combined – which makes them the greatest hit machine in the history of popular music. They called themselves the Funk Brothers.
Forty-one years after they played their first note on a Motown record and three decades since they were all together, the Funk Brothers reunited back in Detroit to play their music and tell their unforgettable story.