Event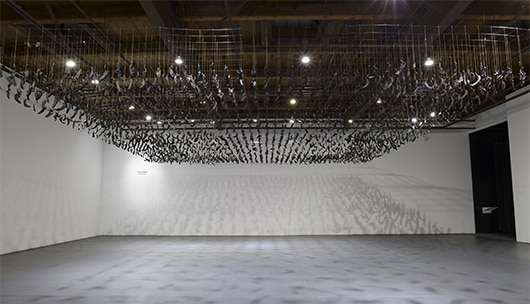 ARTS
Specific Matter
Howard el-Yasin
Real Art Ways presents a solo exhibition by Howard el-Yasin. Curated by David Borawski.
Howard el-Yasin's sculptural and installation work focuses on everyday materials as signs pointing to multiplicities of meaning. Through unconventional and castoff materials, el-Yasin looks at social value and marginalized racial and gender identities. The gallery installation includes an immersive suspended piece comprised of thousands of baked banana peels sourced from the artist's community.
From el-Yasin:
"This body of work is an accumulation of two of my ongoing collection practices: banana skins and dryer lint. Both materials are raw and residual, insofar as they are often discarded as waste by people. For several years now, I've been collecting banana skins and dryer lint from people I meet, from friends and family—as well as from my own household.
Bananas signify many references (to culture, sex, labor and the global economy…) and dryer lint is largely an American byproduct. Yet, in a speculative sense, this work reflects on the individual and collective histories of its many participants, which can be imagined in the diversity of shapes formed by the process of baking the banana skins, as well as the sorted range of grey hues and other colors with details of various remnants in the lint felted tiles.
When looking at the accumulated mass of ordinary materials, an uncanny possibility of seeing begins to emerge. Henceforth, perhaps the spectator will consider the materials differently and question what they know about the construction of value in relation to oneself."
About the Artist
Howard el-Yasin is a New Haven, CT-based interdisciplinary artist, curator and educator holding degrees from Maryland Institute College of Art (MICA '16), Wesleyan University, and New England College. They have exhibited their artwork nationally, and have work in several private collections. They are currently an adjunct faculty member at MICA, and the co-founder/curator of SomethingProjects, an artist-run curatorial initiative. They were a recipient of MICA's Leslie King-Hammond Award (2016) and the Faculty and Staff Queer Alliance Award (2015). They are a trustee of the Vermont Studio Center and a former VSC residency fellowship recipient (2012). el-Yasin has also served as a volunteer leader with numerous Connecticut-based non-profit organizations, including as Director/Curator of Arts Literature Laboratory (2002-2009).
Photo Credit: John Groo