October 7 | 5 PM: Film Screening and Post-film Panel Discussion
Three lives changed forever.
Mark Newman is talking to his wife when a stray bullet from a teenager's gun suddenly strikes him in the chest. As Newman fights for his life in the hospital, the young perpetrator must decide whether to take responsibility for his actions.
Panelists
–Tyrek Marquez, gun shot survivor, 17 years old, Hartford Resident.
–Dr. David Shapiro, Chief of Surgery Critical Care; Vice Chairman Surgery Service Line; Interim Chief Quality Officer Saint Francis Hospital, Hartford.
–Brent Peterkin, Statewide Coordinator for Project Longevity, a Dept. of Justice gun violence prevention program initiated here in Connecticut. Brent is also a Board Member of Connecticut Against Gun Violence.

#UNLOAD is an arts-based initiative in Connecticut that seeks to drive consensus around the divisive issue of gun violence. This screening and discussion at Real Art Ways are one of the many events taking place across the state this year to create the conversation.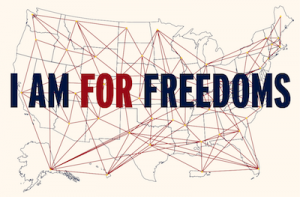 For Freedoms is a hub for artists and arts institutions who want to be more engaged in public life. They believe art can be a vehicle that broadens participation and deepens public discussions of civic issues and core values.
Additional Unload Foundation Inc. events happening:
– Guns in the Hands of Artists
Exhibition through Oct. 13, Fairfield University Art Museum.
– Unload: Pick Up the Pieces Opening Reception
Exhibition opening Oct. 11, Ely Center of Contemporary Art.