Event
FILM
Science on Screen: Fast, Cheap and Out of Control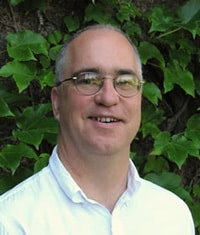 Speaker: Kent D. Dunlap, Ph.D., Charles A. Dana Research Professor of Biology, Trinity College
Topic: "The Scientific Method and Everyday Life–Like Lion Taming"
Professor Dunlap will discuss what motivates scientists; individual vs. group efforts in science; and the roles of control and play in science.
In his teaching, Professor Dunlap spans several levels of biology in the hope of demonstrating how physiological processes are, in part, products of molecular and ecological processes, but also have particular (emergent) properties at the organismal level. In addition, he tries to show how biology fits into the liberal arts by discussing the possibilities and limitations of science as a way of knowing and by examining ways that scientists have uniquely approached phenomena in the humanities, such as music, art and religion. In his research, Professor Dunlap pursues questions at the cellular, physiological, behavioral and evolutionary levels. While his current research is on fish, he has conducted research on lizards, frogs and rodents in the past.
The Film: Fast, Cheap and Out of Control
In this classic 1997 documentary by Errol Morris, four eccentrics talk about their seemingly diverse lives, interests, and offbeat occupations: Lion tamer Dave Hoover offers theories about wild animal thought processes; topiary gardener George Mendo clips hedges to various creatures; mole-rat specialist Ray Mendez researches the animals' behavior; robotics scientist Rodney Brooks assembles autonomous robots.
---
Science on Screen® is a film series that features "creative pairings of classic, cult, and documentary films with lively introductions by notable figures from the world of science, technology, and medicine." Real Art Ways was one of the eight original theaters chosen nationally to curate our own series.
Science on Screen® is an initiative of the COOLIDGE CORNER THEATRE.
With major support from the ALFRED P. SLOAN FOUNDATION.

"Errol Morris has long since moved out of the field of traditional documentary. Like his subjects, he is arranging the materials of life according to his own notions. They control shrubs, lions, robots and rats, and he controls them. "Fast, Cheap & Out of Control" doesn't fade from the mind the way so many assembly line thrillers do. Its images lodge in the memory."