Event
FILM
Science on Screen: The Boy Who Harnessed the Wind
Real Art Ways Science on Screen® season invites you to experience the unique combination of a feature film and a relevant talk from a notable local figure in science.
Film: The Boy Who Harnessed the Wind
"A deeply informed and fully expressed portrait of a culture most of us know little about." – Observer 

"The Boy Who Harnessed the Wind– feeds our hunger for inspiring tales in these desperate times with a beautifully engineered narrative latticework of hardship, hope, and know-how." – Los Angeles Times

"As inspiring and morally upright as you'd expect from a film with such rousing source material drawn from real life." – RogerEbert.com
A 13-year-old boy is thrown out of the school he loves when his family can no longer afford the fees. He sneaks into the library and learns how to build a windmill to save his village from a famine.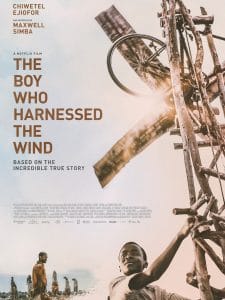 Pre-Film Talk | 6:30 PM 
Speaker: Dr. Steven Nathan
Dr. Nathan is trained in Paleoceanography, Micropaleontology and Biostratigraphy. His research spans topics ranging from paleoclimate to geothermal energy. Before Eastern, Dr. Nathan taught at the University of Massachusetts Amherst, Smith and Mount Holyoke Colleges, and several community colleges. He holds a B.S. in Biology (Springfield College), a B.S. in Physics, a M.S. in Geology, and a Ph.D. in Geoscience (all at UMass). He was a senior post-doctoral research associate with the Massachusetts Geological Survey.

Science on Screen is an initiative of the COOLIDGE CORNER THEATRE, with major support from the ALFRED P. SLOAN FOUNDATION.