Event
FILM
Science on Screen: New Fungi Found in Connecticut
Real Art Ways Science on Screen® season invites you to experience the unique combination of a feature film and a relevant talk from a notable local figure in science.
Film: Know Your Mushrooms
"As with all of Mann's films, his enthusiasm is infectious. He comes to praise mushrooms, not to bury them, and long may his frying pan sizzle." – Toronto Star

"A playfully informative look at various types of fleshy fungi and the folks who avidly consume them." – Variety
Ron Mann investigates the miraculous, near-secret world of fungi with über myco visionaries Gary Lincoff and Larry Evans as they lead us on a hunt for the wild mushroom and the deeper cultural experiences attached to fungi life.
Combining material filmed at the Telluride Mushroom Fest with animation and archival footage along with a neo-psychedelic soundtrack by The Flaming Lips and The Sadies, Know Your Mushrooms opens the doors of perception and takes the audience on a longer, stranger trip.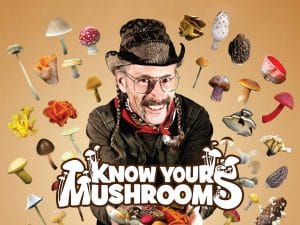 Pre-Film Talk | 6:30 PM 
Dr. DeWei Lee will discuss the roll mushrooms and the mycelial network play in forest ecology.
Dr. Li has expertise in mycology in the following: spatial and temporal patterns of airborne fungi, relationships of airborne fungi and air quality, characterization of airborne fungal spores; indoor fungi, sampling strategy of indoor fungi investigation, fungi of air quality importance; biosystematics of Stachybotrys and allies. His expertise also includes biocontrol of Botrytis cinerea; utilizing ectomycorrhizae for solid waste remediation.
Dr. Li investigated indoor fungi/molds and airborne fungi and their relationships with allergies and environmental factors. His studies determined airborne fungal compositions and populations, and explicated causal relationships between airborne fungal spores and allergenic responses of patients and the functional relationships between airborne fungi in residential buildings and outdoors. His studies also characterized the seasonal and diurnal patterns of airborne fungal spores. During his postdoctoral research, his focus was on biocontrol of gray mold, Botrytis cinerea. He isolated and evaluated three promising biocontrol agents for controlling grey mold on vegetables and ornamental plants. The efficacies of the biocontrol agents in relation to host development and environmental factors were studied in laboratory and greenhouses.

Science on Screen is an initiative of the COOLIDGE CORNER THEATRE, with major support from the ALFRED P. SLOAN FOUNDATION.
Updates to Our Cinema:
As you return to our physical space, your health and safety is our top priority. To learn about all the steps we have taken to prepare and our new procedures visit our Welcoming You Back page.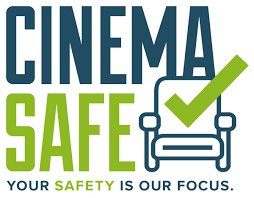 Real Art Ways Cinema is designated Cinema Safe. Learn more about Cinema Safe HERE