Event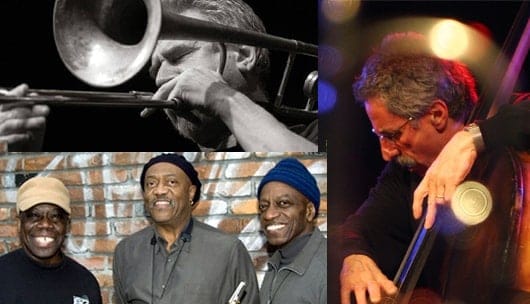 THREE FREE CONCERTS TO CELEBRATE 40 YEARS OF MUSIC!
Funding for RAW Jazz is provided by The Evelyn W. Preston Memorial Trust Fund, Bank of America, N.A., Trustee; and Edward C. & Ann T. Roberts Foundation.
Steve Swell's Kende Dreams
Friday, September 16 | 7:30 PM
*At Asylum Hill Congregational Church, 814 Asylum Ave, Hartford, Connecticut, www.ahcc.org
The group will play compositions inspired by the music of Hungarian composer Bela Bartok. "Kende" refers to the spiritual leaders of tribes in a region that became modern-day Hungary. According to Steve Swell, "It is never too late for we humans to collectively overcome our more negative inclinations, as I believe we are wired to fulfill the destinies of our best selves. That is my Kende Dream."
Steve Swell – Trombone; Rob Brown – Alto Saxophone; William Parker – Bass; Gerald Cleaver – Drums
" …Swell and his cohorts have created a spry and individual take on the improvised language of human interaction, whether drawn from folk musics or rigorous study." – Clifford Allen, Jazz Right Now
More about Steve Swell's Kende Dreams.
Mario Pavone, Street Songs/The Accordion Project
Saturday, September 17 | 7:30 PM
At Real Art Ways
A suite of earthy tunes recalls music heard in the ethnically diverse neighborhoods of postwar Waterbury. Bassist/composer/bandleader Mario Pavone has a stellar reputation among fans of avant-garde jazz. His inspiration for these pieces was, "going to the drugstore for my aunts and my mother, hearing the various musics, Italian, Portuguese, Polish. I called it front-stoop music, and much of it was based on the accordion."
Mario Pavone – Bass/Compositions; Dave Ballou – Trumpet/Arrangements; Tony Malaby – Tenor and Soprano Saxophones; Adam Matlock – Accordion; Peter McEachern – Trombone; Ben Stapp – Tuba; Leise Ballou – French Horn; Carl Testa – Bass; Mike Sarin – Drums
" …Mr. Pavone's sharp attack and forceful presence, was kinetic." – Phillip Lutz, New York Times
More about Mario Pavone Street Songs/The Accordian Project.
Trio 3
Sunday, September 18 | 3 PM
At Real Art Ways
A group where music is the leader. The unconventional collaboration of internationally-recognized jazz masters, formed to centralize the members' creative energies and promote a single governing principle: organic improvisation. Everyone is a distinct soloist but it's definitely an unadulterated group-based effort. Deeply rooted in the tradition, these jazz veterans describe their sound as "futuristic music within the idiomatic continuum of jazz." Like musical alchemists, Trio 3 boldly carries the music forward spinning 3-dimensional jazz, reconfiguring conventions of compositions, harmony, meter and melody.
Trio 3: Reggie Workman – Bass; Oliver Lake – Saxophone, Flute; Andrew Cyrille – Drums
" …free jazz as rigorous discourse, and a direct response to nothing beyond its own brimming potential." – Nate Chinen, New York Times