Event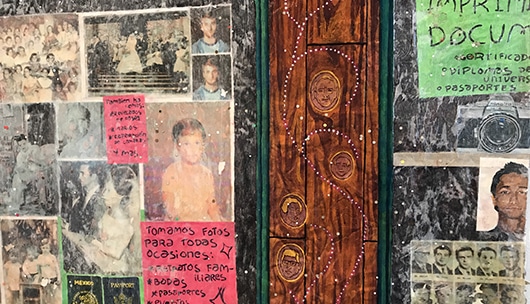 Real Art Ways presents new works by 2018 Real Art Awards recipient Mateo Nava.
In Mateo Nava's exhibition Encuentro, the viewer encounters bodega forms that feel simultaneously alien yet familiar. Utilizing the languages of painting outside the standard canvas on stretcher bars format, Nava creates an alternative to image making. His mixed-media works challenge the viewer to consider Mexican culture from a diasporan standpoint, feeling both at home and displaced.
Read an article in the Hartford Courant about Mateo's and Keith Clougherty's Exhibitions.
About the Artist
Mateo Nava was born in 1994 in San Luis Potosí, Mexico and grew up in Mexico City. In 2016, Mateo completed a residency at Yale University's Summer School of Art in Norfolk, Connecticut and in 2017 he earned a BFA from The Cooper Union, where his work began to focus on painting, collage, layering, pattern, and iconography in relationship to Latin American visual tradition.
His work has been included in group exhibitions in New York and Miami. He recently completed a residency with the National YoungArts Foundation and Bay Parc in Miami, which culminated in a solo exhibition of works.
He is currently an Artist in Residence at Fountainhead Studios in Miami and is a recent recipient of an Artist Opportunity Fellowship from the Vermont Studio Center, where he will complete a residency this summer.
Featured image: "Fotos de Pasaporte" (detail) – Acrylic, paper, photo collage, glitter and confetti on canvas, 56″ x 78″, 2018.
More about the Real Art Awards here.
The 2018 Real Art Awards is supported in part by the National Endowment of the Arts and The Edward C. and Ann T. Roberts Foundation.