Event
EVENTS
Haneef N. Nelson Quartet and
"Jazz on a Summer's Day"
Event Details:
We are converting our parking lot into space for socially distanced gatherings.
"Doors" will open at 6:00. Music will begin at 6:45 followed by the film at 8:30.
Bring your own blanket or chairs. We will have food and drinks for sale inside our cafe. Our galleries will be open with limited capacity.
Seating will be limited according to state guidelines and advance reservations are required to attend.
Reservations:
When making reservations, you will need to reserve one ticket per person in your party.  Seating will be socially distanced in pods, with a maximum of 4 people per pod.
Parties that do not check in ten minutes before the band begins will have their reservations voided.
Since this event has limited capacity, please inform us through email or by phone if you need to cancel your reservation.
Parking:
For this event, the parking entrance is on Orange Street (not Arbor Street). There will be accessible parking spaces available.
Rain Date:
Friday, September 4
Health and Safety:
We have updated our health and safety protocols to welcome you into our space. You can read more about them HERE.
Music: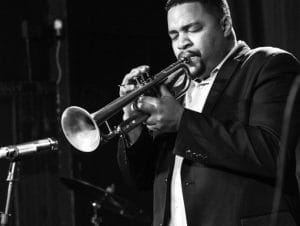 Haneef N. Nelson Quartet:
Featuring:
Haneef N. Nelson-trumpet
Andrew Wilcox-keyboard
Matt Dwonszyk-bass
Jonathan Barber-drums
Haneef graduated from The Hartt School with a degree in African-American music study and has been involved in the Hartford arts scene for over 21 years. A prolific musician, businessman, and educator, his passion for music is displayed in every aspect of his professional career as a performer, composer, master class teacher, and in his work in leadership development. He continues to strive for excellence in expanding arts-based training for the next generation of creatives in business.
Support of this concert comes from the Evelyn W. Preston Fund
Movie: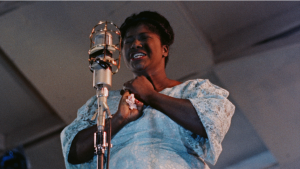 Jazz on a Summer's Day
100% on Rotten Tomatoes
'As generous a dish of top jazz music as any cat could take in one gulp."
-Bosley Crowther, New York Times
Synopsis:
Filmed at the 1958 Newport Jazz Festival and directed by world-renowned photographer Bert Stern, Jazz on a Summer's Day features intimate performances by an all-star line-up of musical legends including Louis Armstrong, Thelonius Monk, Gerry Mulligan, Anita O'Day, Chuck Berry, Dinah Washington, and closes with a beautiful rendition of The Lord's Prayer by Mahalia Jackson at midnight to usher in Sunday morning.