Event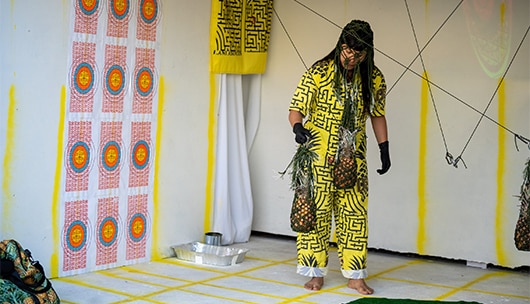 ARTS
Gallery Performance:
Lani Asunción
Saturday, August 6, 7:00 PM. Free admission, no RSVP required.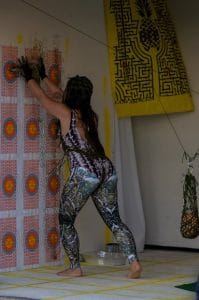 You're invited to a gallery performance and panel talk as part of Lani Asunción's exhibition, Duty-Free Paradise, curated by David Borawski. The multimedia exhibition plays on the tensions of lived and imagined island life focusing on Hawai'i. Through the lens of ecotourism, around which the islands' economy heavily revolves, this work explores the contradictions between perceptions and realities of island life as a constructed paradise.
Asunción will perform in and throughout this work in the Main Gallery on Saturday, August 06, 2022, 7-8 PM, followed by a panel discussion 8-9 PM with artists Billie Lee and Joe Bun Keo.
Lani Asunción (they/she) is a multimedia artist creating socially engaged art in both private and public spaces, independently and collaboratively. Weaving together a visual language guided by historical research, community engagement, and experimental performance connected to their identity as a queer multiracial Filipinx-American, Asunción integrates new media technologies and transmedia storytelling. Through ritualized performance, they encourage conversations that magnify connections and facilitate healing in the face of cultural violence, oppression, and ancestral intergenerational trauma narratives.
Asunción has shown their video performance work in CONTACT ZONE (2018) at the Honolulu Museum of Art School presented by Pu'uhonua Society, and had solo exhibitions at the New Bedford Museum of Art (2016) and Radial Gallery (2020) with the Department of Art and Design at Dayton University. They have performed live at Studios at Massachusetts Museum of Contemporary Art, Museum of Fine Arts Boston, Little Berlin in Philadelphia, PAO Arts Center in Boston, and Aurora Picture Show in Houston, TX. Most recently, Asunción is the recipient of the 2022-23 Kala Fellowship at Kala Arts Institute in Berkeley, CA and was selected as a 2022-25 Boston Center for the Arts Studio Residency. They are an awardee of the 2022 Public Art for Spatial Justice grant from the New England Foundation for the Arts for their socially engaged project Revolutionary AYAT, in addition to receiving the Live Arts Boston Grant (2020) from the Boston Foundation, City of Boston's Transformative Public Art grant (2020), and Dame Joan Sutherland Fund from the Australian American Association (2017). They are founding member and Producing Artistic Director of the Boston based multimedia collective Digital Soup. They received their master's degree in Fine Arts in performance and video from the University of Connecticut.
Click here to visit the artist's website.
Image Credit: Taylor Blackley