Event
Real Art Ways celebrates Art House Theater Day – Sunday, September 23.
Real Art Ways is part of the Art House Convergence, a nationwide organization of Art House Theaters. Your Real Art Ways membership entitles you to discounted admission at participating Art House Theaters through the Art House Visiting Members Program. Your support matters – you are part of this effort to keep art house cinemas thriving.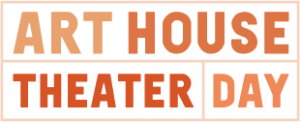 About Art House Theater Day
Art House Theater Day 2018 is Sunday, September 23. Theaters across the nation will have special film presentations on this day. Real Art Ways will present the film, Foreign Body.
From the Art House Theater Day website: "Art House Theater Day celebrates the art house theater and the cultural role it plays in a community. It is a day to recognize the year-round contributions of film and filmmakers, patrons, projectionists, and staff, and the brick and mortar theaters that are passionately dedicated to providing access to the best cinematic experience."
About Foreign Body
Seeking refuge from her Islamist radical brother whom she informed on, a young woman arrives in France illegally following Tunisia's Jasmine Revolution and discovers a new world of both hope and danger, in the fourth feature from writer-director Raja Amari.
In the turbulent aftermath of the Tunisian revolution, young Samia (Sarra Hannachi) flees her homeland. She braves hostile seas in the crossing to France, but once there she finds that her struggles have only just begun. With no friends, no family, and – most crucially – no immigration papers, Samia has to figure out how to make a life and a living in a foreign land.
She meets a young man, Imed (Salim Kechiouche, Blue is the Warmest Color), and soon finds work in the employ of the elegant Leila (the inimitable Hiam Abbass, The Lemon Tree). But her presence in Leila's middle-class household triggers a shift in its dynamics, and soon Samia is enmeshed in a web of sexual tension.
"Rather than retracing the inevitable obstacle course any refugee has to face,...Amari focuses on her heroine's inner turmoil and confronts her with a troubling waltz of desires."
"Writer/director Amari adeptly captures the anxiety of the undocumented, and star Hannachi expertly conveys Samia's shifts from panicked to poised."
"Politics and sensuality make for intriguing bedfellows in "Foreign Body," Raja Amari's accomplished survival tale about an undocumented young Tunisian woman finding her identity in France."