Event
FILM
Everything Everywhere All At Once
"Yes, the movie is a metaphysical multiverse galaxy-brain head trip, but deep down — and also right on the surface — it's a bittersweet domestic drama, a marital comedy, a story of immigrant striving and a hurt-filled ballad of mother-daughter love." – NY Times

"Yeoh imbues Evelyn with moving shades of melancholy, regret, resolve and growing curiosity. She's the kind of woman the world (and Hollywood) routinely overlooks, but Yeoh makes her embrace of lead-character energy positively gripping." – Vanity Fair

"A rare and dazzling showcase for a megawatt performer [Yeoh] who scowls, gasps, punches, kicks, leaps, flips, soars and finally transcends."
– Los Angeles Times
Synopsis:
A hilarious and big-hearted sci-fi action adventure about an exhausted Chinese American woman (Michelle Yeoh) who can't seem to finish her taxes.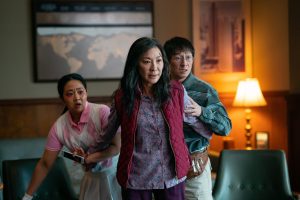 Safety In Our Cinema:
As you return to our physical space, your health and safety is our top priority. To learn about all the steps we have taken to prepare and our new procedures visit our Welcoming You Back page.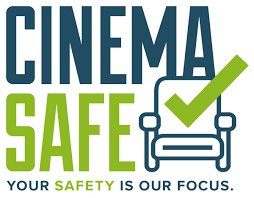 Real Art Ways Cinema is designated Cinema Safe. Learn more about Cinema Safe HERE