Event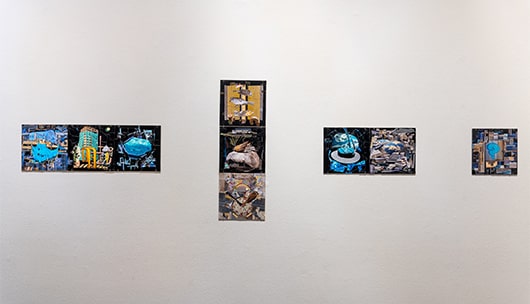 ARTS
Every Little Thing
Rashmi Talpade
Real Art Ways presents a solo exhibition by Rashmi Talpade. Curated by David Borawski.
A gallery talk will be held Friday, March 3rd, 6:00 PM.
In Every Little Thing, Rashmi uses photo collage to explore environmental challenges faced by our planet. Her recent series, Modern Archaeology, depicts industrial relics and abandoned factories as they are reclaimed by nature's relentless march against man-made waste and environmental abuse. Created by assembling fragments from a personal collection of photographs, Rashmi's collages use everyday objects to represent a collision between the past and our constantly changing present. Together the works lay out a narrative of our previous and current societal successes and failures.
From Rashmi:
"Large manufacturing facilities—one-time icons of industry—have fallen into disrepair just a few miles from modern office buildings in suburban business parks. While the environmentally conscious, highly automated office complexes look toward sustainable energy, the factories of the past all but ignored the environment while providing jobs and livelihoods to ordinary people. These differing perspectives indicate the tensions of changing times, shifting dynamics and complex issues which we are facing as a country. We are at the center of a turbulent time in our history, where change is slowly but surely pervading the lives of young and old. The photo collages document the contrasts of the time we live in through seemingly inconsequential footprints, including abandoned objects, less-than-pristine city sidewalks, and rusted bits of metal. More than simply a collection of decay, Every Little Thing shows an unexpected and radiant beauty to items both natural and manmade which surround us in our daily life."
About the Artist:
Rashmi Talpade is a professional artist with a Fine Arts degree from Mumbai, India, specializing in painting and photography. Since immigrating to Connecticut in 1991, she has been involved in the local arts community and has exhibited her work statewide, in New York, New Mexico and India. She is a recipient of an Artist Fellowship from the Connecticut Commission of the Arts and she has received numerous grants from the State of Connecticut and the National Endowment for the Arts to support her public art projects. These projects include works at the New Britain Museum of American Art, the Yale New Haven Children's Hospital, the five branches of the New Haven Public Library, the Wallingford Public Library, the Essex and Southington Elementary Schools, and the Bandra Municipal School in Mumbai, India. She also has upcoming projects at the New Britain Public Library and with the Spanish Community of Wallingford. Her photo collages are in the permanent collection of the New Britain Museum of Art and the Roopankar Museum of Modern Art, India. Her intricate photo collages are composed of fragments of photographic prints, resembling a single image of an imaginary but familiar subject.
Photo Credit: John Groo