Event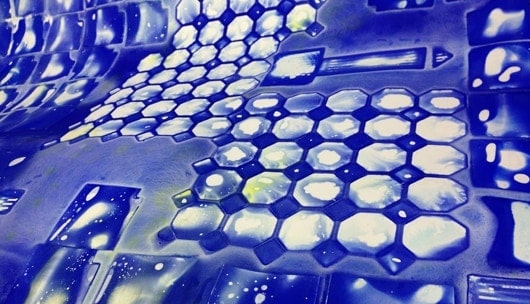 ARTS
Ellen Hackl Fagan: Into The Blue Again
Into The Blue Again features the work of Ellen Hackl Fagan in a solo exhibition of her large scale watercolor/pigments on rag paper. This series explores the nature of printmaking processes, texture and surface manipulation inspired by the sound of cobalt blue. Her process walks the balance between randomness and intention, like jazz music, revealing limitless possibilities for improvisation.
Curated by David Borawski
ABOUT THE ARTIST
Ellen Hackl Fagan is an interdisciplinary abstract painter who believes that synaesthesia can be taught. Through interactive tools and crowd sourcing, Fagan is developing a corresponding language of color to sound.
Ellen Hackl Fagan is the inventor of The Reverse Color Organ and the ColorSoundGrammar Game, two projects that enable viewers to interact aurally with color. In collaboration with cognitive scientist Michael Cole, the Reverse Color Organ is being developed into an app and website to put this synaesthetic tool into peoples' hands to be used not only to expand the language of color, but also as a crowd-sourced musical instrument.
Fagan earned a Master of Fine Arts Degree in Painting and Interdisciplinary Media in 2005 from Hartford Art School in Connecticut. She was awarded a RADIUS artist residency through the Aldrich Museum of Contemporary Art, in 2004, as well as a grant through the Stamford Museum & Nature Center in 2005.
Fagan exhibits her work extensively throughout New England and New York City.
In June of 2014, Ellen Hackl Fagan expanded her independent curatorial practice into a full time business and is now the owner of ODETTA Gallery in Bushwick, Brooklyn. There, she maintains her painting studio and has become an active member of this vibrant arts community.
Featured image: "Seeking the Sound of Cobalt Blue: Big Blue" (detail), 2016, ink, pigment, acrylic on museum board