Event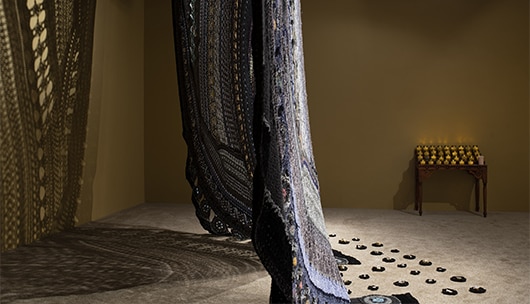 ARTS
There were no casseroles...
Daniela Puliti
Real Art Ways presents a solo exhibition of new work by 2020 Real Art Award recipient Daniela Puliti. 
There were no casseroles… explores multiple forms of communal grieving and funerary traditions, using her personal narrative as a means to connect with the universal experience of death. Puliti's use of textiles references her experience with neurodivergence (anxiety, ADHD, etc.), weaving materials together in complicated and almost obsessive means. The large scale woven tapestry You, Me, and Jesse's Ghost, serves as the main component of the installation. It also functions as a memorial for Puliti's partner, who suffered an anoxic brain injury in January of 2019 and passed away mid-pandemic in 2020, unable to have a funeral. In addition to the gallery exhibition, the public is invited to submit their recipes for comfort for an ongoing publication and future interactive performance. To learn more and submit a recipe, click here.
About The Artist:
Daniela Puliti studied painting at Montclair State University (BFA, 2011) and The Savannah College of Art and Design (MFA, 2015). Puliti manipulates craft-based materials with an intuitive painter's sensibility; creating installations, paintings, and mixed media works about gender, sexuality, vulnerability, and mental illness. She identifies as a gender-questioning femme, forever evaluating the shifting ideals around intersectional feminism within structural misogyny. She has participated in short term residencies at The Elizabeth Foundation for the Arts (NYC), Vermont Studio Center, The Wassaic Project and ChaNorth. Puliti is an alumna of the A.I.R. Gallery Fellowship Program in Brooklyn, NY (2017-2018), which granted her first solo exhibition in NYC in February 2018. Puliti received a 2021 Fellowship from the New Jersey State Council on the Arts.
About the Real Art Awards:
The Real Art Awards is an annual opportunity for emerging artists living in New England, New Jersey, or New York. The open call, offered with no entry fees to artists, attracts hundreds of applicants each year, of which 6 artists are chosen. Selected artists receive a solo exhibition, with a commissioned essay, professional documentation, and a cash prize of $2,500. The 2020 Real Art Awards was juried by artist and educator Mary Mattingly, Director of the Laundromat Project Kemi Ilesanmi, and Real Art Ways Executive Director Will K. Wilkins. The 2020 Real Art Awards is supported in part by an award from the National Endowment for the Arts and an Excellence in the Arts award from the Edward C. and Ann T. Roberts Foundation. Visual arts at Real Art Ways is supported by the Andy Warhol Foundation for Contemporary Art.
Welcoming You Back Safely:
As you return to our physical space, your health and safety is our top priority. To learn about all the steps we have taken to prepare and our new procedures visit our Welcoming You Back page.
Photo Credit: John Groo