Event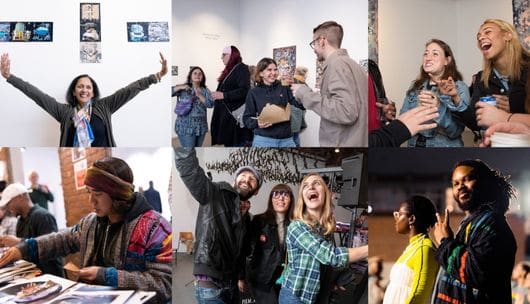 Live music, art exhibitions, DJ, food trucks, and more. Come as you are.
Everybody is welcoming, conversations abound, people connect.
Come with friends, come by yourself, hangout. Creative Cocktail Hour is a great way to meet new people!
Music:
Keila Myles & The Moose Knuckles
Keila Myles is a multidisciplinary artist based in Hartford, CT. She is best known for her work and performance as a musician. Her freshman project titled Just Add Water best sums up her ability to shape shift and aqueous to any genre and art form. Her style is a blend of R&B, soul, boom bap, classic rock and reggae. Keila draws from her American heritage in her lyricism and song-writing yet her delivery is reminiscent of classic reggae music. She will be performing with her band, The Moose Knuckles.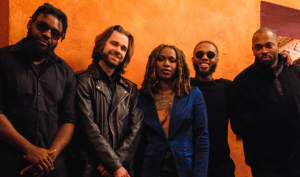 DJ Kasey Cortez:
Kasey Cortez is a multidisciplinary artist currently working to merge her many realms of creative expression. She has delved into worlds of music, theatre, photography, design, fashion, & installation art. Her work across mediums is inspired by a deep fascination with collective trends/culture, the minutiae of human choice & the mundane passing of time. She's also a yoga teacher of nearly 10 years, & DJing has become her new favorite form of expression!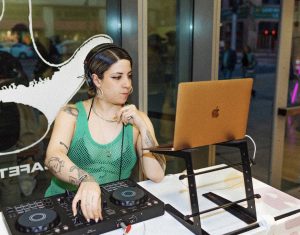 Art Exhibitions:
Exhibition Opening: sub-marine by Simon Benjamin (Opening Reception 6-8pm)
sub–marine is a constellation of video, photography, and sculpture by Jamaican artist Simon Benjamin. The project's title borrows from Barbadian Poet Kamau Brathwaite's assertation that "the unity is sub-marine" – resisting the notion of the Caribbean as a fractured region divided by nation-state borders and language. Through the project's lens, the Caribbean is reframed as expansive, relational, and interconnected over multiple temporalities and geographies, transgressing colonial divisions.
Food Truck
Rolling Roti – authentic Guyanese cuisine.
Hands-on art making activities based on current exhibitions lead by Real Art Ways staff.
$15 General Admission, Free for Real Art Ways members!