Event
EVENTS
GOZA and
"Cinema Paradiso"
This event has sold out.
Event Details:
We are converting our parking lot into space for socially distanced gatherings.
"Doors" will open at 5:30. Music will begin at 6:00 followed by the film at 7:15.
Bring your own blanket or chairs. We will have food and drinks for sale inside our cafe. Our galleries will be open with limited capacity.
Seating will be limited according to state guidelines and advance reservations are required to attend.
Reservations:
When making reservations, you will need to reserve one ticket per person in your party.  Seating will be socially distanced in pods, with a maximum of 4 people per pod.
Parties that do not check in ten minutes before the band begins will have their reservations voided.
Since this event has limited capacity, please inform us through email or by phone if you need to cancel your reservation.
Parking:
For this event, the parking entrance is on Orange Street (not Arbor Street). There will be accessible parking spaces available.
Rain Date:
Friday, October 2
Health and Safety:
We have updated our health and safety protocols to welcome you into our space. You can read more about them HERE.
Music:

GOZA (Spanish for Joy) – An engaging Latin musical ensemble comprised of Connecticut's most seasoned and versatile musicians. They perform exciting music and dance rhythms from Latin America, Brazil, and Spain with guitar, violin, horns, Latin percussion, and beautiful, romantic vocals.
Goza rhythms include samba, salsa, bachata, rumba, cha-cha, cumbia, flamenco, tango, and bolero.
Their covers include many Latin standards plus music of Jobim, Tito Puente, Gipsy Kings, Buena Vista, Selena, Beatles, Santana, Stevie Wonder, Van Morrison, Guns & Roses, and many originals.
Support of this concert comes from the Evelyn W. Preston Fund
Movie: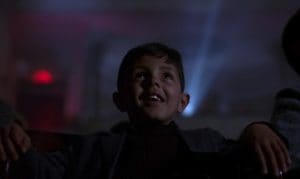 Cinema Paradiso
Academy Award Winner, Best International Feature, 1990
"Still rapturous after all these years, Cinema Paradiso stands as one of the great films about movie love."- Ann Hornaday, Washington Post
Synopsis:
Cinema Paradiso offers a nostalgic look at films and the effect they have on a young boy who grows up in and around the title village movie theater in this Italian comedy drama that is based on the life and times of screenwriter/director Giuseppe Tornatore.
The story begins in the present as a Sicilian mother pines for her estranged son, Salvatore, who left many years ago and has since become a prominent Roman film director who has taken the advice of his mentor too literally. He finally returns to his home village to attend the funeral of the town's former film projectionist, Alfredo, and, in so doing, embarks upon a journey into his boyhood just after WWII when he became the man's official son. In the dark confines of the Cinema Paradiso, the boy and the other townsfolk try to escape from the grim realities of post-war Italy.