Event
EVENTS
Nelson Bello and Friends
"Buena Vista Social Club"
This event has sold out.
Event Details:
We are converting our parking lot into space for socially distanced gatherings.
"Doors" will open at 6:00. Music will begin at 6:30 followed by the film at 7:45.
Bring your own blanket or chairs. We will have food and drinks for sale inside our cafe. Our galleries will be open with limited capacity.
Seating will be limited according to state guidelines and advance reservations are required to attend.
Reservations:
When making reservations, you will need to reserve one ticket per person in your party.  Seating will be socially distanced in pods, with a maximum of 4 people per pod.
Parties that do not check in ten minutes before the band begins will have their reservations voided.
Since this event has limited capacity, please inform us through email or by phone if you need to cancel your reservation.
Parking:
For this event, the parking entrance is on Orange Street (not Arbor Street). There will be accessible parking spaces available.
Rain Date:
Friday, September 11
Health and Safety:
We have updated our health and safety protocols to welcome you into our space. You can read more about them HERE.
Music: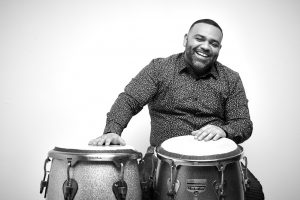 Nelson Bello, a Connecticut based percussionist, began his musical studies at the Hartford Conservatory Jazz Summer Program at the age of 13 and the Performing Arts Academy in Hartford Connecticut. At the age of 15 he traveled to Cuba for the International Jazz Festival (with Latin Flavor now better known as INSIGHT) and invited guest Pianist Chucho Valdez. Through his range of music Nelson has been able to perform with the likes of Andy Gonzalez, Cheo Feliciano, Ismael Miranda, Tony Vega, Charles Flores, Zaccai and Luques Curtis among others. Nelson is co-founder of the Latin Jazz band TROMBEATZ and they are working on their first musical recording titled "A Caribbean Thing".
Support of this concert comes from the Evelyn W. Preston Fund
Movie: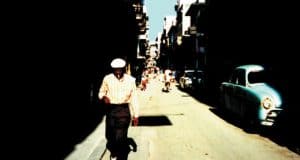 Buena Vista Social Club
91% on Rotten Tomatoes
"Being able to hear this kind of playing is a special moment in time, one we don't want to end and one that we're privileged to experience."
-Kenneth Turan, L.A. Times
In 1996 Ry Cooder gathered together some of the greatest names from the history of Cuban music to collaborate on the best selling and Grammy-winning album The Buena Vista Social Club. This ground-breaking documentary, inspired by the album, includes appearances by legendary performers Ry & Joaquim Cooder, Ibrahim Ferrer, Ruben Gonzales, Eliades Ochoa, Omara Portuondo, Compay Segundo, and many other renowned Cuban Musicians.