Event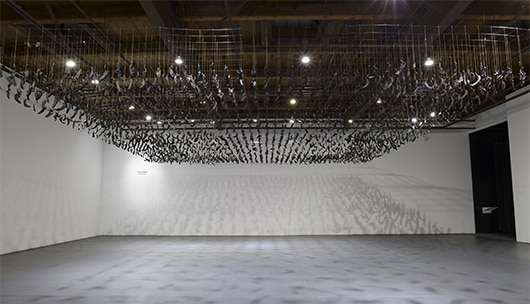 ARTS
Artist Talk: Howard el-Yasin
Thursday, March 9, 6:00 PM. Free admission, no RSVP required.
You're invited to a gallery talk with artist Howard el-Yasin, in conversation with writer and curator Sarah Fritchey. el-Yasin and Fritchey will discuss the process and concepts behind the current exhibition Specific Matter at Real Art Ways.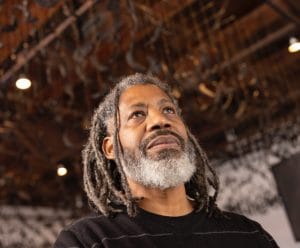 Howard el-Yasin is a New Haven, CT-based interdisciplinary artist, curator and educator holding degrees from Maryland Institute College of Art (MICA '16), Wesleyan University, and New England College. They have exhibited their artwork nationally, and have work in several private collections. They are currently an adjunct faculty member at MICA, and the co-founder/curator of SomethingProjects, an artist-run curatorial initiative. They were a recipient of MICA's Leslie King-Hammond Award (2016) and the Faculty and Staff Queer Alliance Award (2015). They are a trustee of the Vermont Studio Center and a former VSC residency fellowship recipient (2012). el-Yasin has also served as a volunteer leader with numerous Connecticut-based non-profit organizations, including as Director/Curator of Arts Literature Laboratory (2002-2009).
Photo Credit: Steven Laschever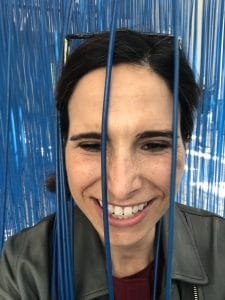 Sarah Fritchey is an independent Curator and Writer who works at the intersections of art, justice, civic engagement, memory and belonging. Fritchey served as the Curator at Artspace New Haven from 2014 to 2020, organizing group exhibitions, solo projects, and public programs that mobilized partnerships between long term and transient residents, local organizations, and major institutions. She has curated exhibitions across the country, including the African American Museum in Philadelphia, Lyman Allyn Art Museum (New London, CT), the Hessel Museum of Art (Annandale-on-Hudson, NY), Sideshow Gallery (NYC), Franklin Street Works (Stamford, CT), and Real Art Ways with the exhibition Statues Also Die. She has contributed writing to Artforum.com, Hyperallergic, Art New England Magazine, Big, Red & Shiny, Artscope Magazine, and the Hartford Courant. She serves as an organizer and advisor to Nasty Women Connecticut, and holds an M.A. in Curatorial Studies from the Center for Curatorial Studies at Bard, and a B.A. in Comparative Literature and Studio Practice from Hamilton College, and is an alum of No Longer Empty's Curatorial Lab.