Event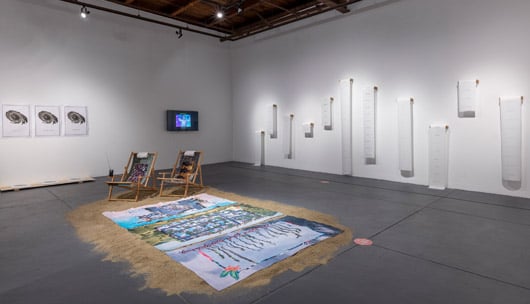 ARTS
Artist Conversation:
Kevin Quiles Bonilla
 To register for this free event, click here.
Exhibiting artist Kevin Quiles Bonilla is joined by Visual Arts Manager Neil Daigle Orians in a conversation surrounding the work in the solo exhibition, As the palm is bent, the boy is inclined.
Bonilla uses photography, installation, and performance to explore ideas around colonialism, queerness, and disability using a personal narrative as a catalyst. As the palm is bent, the boy is inclined incorporates historic Western depictions of Puerto Rico with recent events, blurring boundaries between exoticized fantasy and reality. This conversation will take an in-depth look at the individual works contained in the exhibition and the greater narrative they create together. Lasting about an hour, the event will include time for audience questions
This event will also be broadcast on our Facebook page.
About The Artist:
Kevin Quiles Bonilla (b. 1992) is an interdisciplinary artist born in San Juan, Puerto Rico. He received a BA in Fine Arts – Photography from the University of Puerto Rico (2015) and an MFA in Fine Arts from Parsons The New School for Design (2018). He has recently presented his work at The Brooklyn Museum, Queens Museum, The Shelly & Rubin Foundation's 8th Floor Gallery, Dedalus Foundation, and the Leslie-Lohman Museum's Project Space. He has been an artist in residence at Art Beyond Sight's Arts + Disability Residency (2018-2019), Leslie-Lohman Museum's Queer Performance Residency (2019) and LMCC's Workspace Residency (2019-2020). He currently lives and works between Puerto Rico and New York.