Event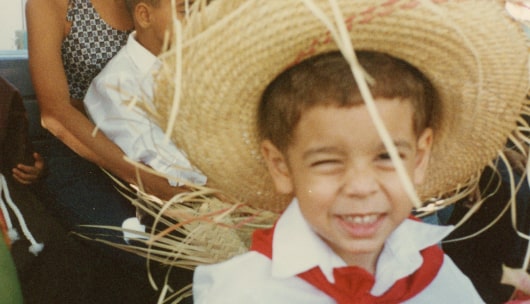 ARTS
As the palm is bent, the boy is inclined
Kevin Quiles Bonilla
Real Art Ways presents a solo exhibition of new work by 2020 Real Art Award recipient Kevin Quiles Bonilla. 
Bonilla uses video, photography, installation, sculpture, and performance. His solo exhibition incorporates archival research, both through the Library of Congress and his own familial history. According to the artist, this process explores "colonization through photography," while, "unearthing the construction of an identity and a historic heritage." Bonilla is one of 6 artists to be chosen for a Real Art Award in 2020.
In speaking about his practice, he says, "…my work seeks to unearth the construction of a queer, historic heritage, using my body as the political repository, colonized by multiple structures of power: As a Puerto Rican, as a diaspora migrant, as a person with a disability, and as a queer man. The work in this exhibition explores how colonialism plays a role in the different intersections of my identity."
Click Here to view the exhibition catalogue and read the essay Inclination/Reclamation by danilo machado.
About The Artist:
Kevin Quiles Bonilla (b. 1992) is an interdisciplinary artist born in San Juan, Puerto Rico. He received a BA in Fine Arts – Photography from the University of Puerto Rico (2015) and an MFA in Fine Arts from Parsons The New School for Design (2018). He has recently presented his work at The Brooklyn Museum, Queens Museum, The Shelly & Rubin Foundation's 8th Floor Gallery, Dedalus Foundation, and the Leslie-Lohman Museum's Project Space. He has been an artist in residence at Art Beyond Sight's Arts + Disability Residency (2018-2019), Leslie-Lohman Museum's Queer Performance Residency (2019) and LMCC's Workspace Residency (2019-2020). He currently lives and works between Puerto Rico and New York. 
About the Real Art Awards
The Real Art Awards is an annual opportunity for emerging artists living in New England, New Jersey, or New York. The open call, offered with no entry fees to artists, attracts hundreds of applicants each year, of which 6 artists are chosen. Selected artists receive a solo exhibition, with a commissioned essay, professional documentation, and a cash prize of $2,500. The 2020 Real Art Awards was juried by artist and educator Mary Mattingly, Director of the Laundromat Project Kemi Ilesanmi, and Real Art Ways Executive Director Will K. Wilkins.
The 2020 Real Art Awards is supported in part by:
An award from the National Endowment for the Arts and an Excellence in the Arts award from the Edward C. and Ann T. Roberts Foundation. Visual arts at Real Art Ways is supported by the Andy Warhol Foundation for Contemporary Art.
Image caption: Doris Bonilla Ramos and Kevin Quiles Bonilla, Self portrait as a young jíbaro (detail), 1996_2021, Analog photography, 4 x 6 in, courtesy of the artist.
Welcoming You Back Safely:
As you return to our physical space, your health and safety is our top priority. To learn about all the steps we have taken to prepare and our new procedures visit our Welcoming You Back page.