Event
EVENTS
Aidan Levy and Tom Reney in Conversation on Sonny Rollins
On Friday, April 7 2023, Aidan Levy will be joined with Tom Reney in a conversation about Levy's book Saxophone Colossus, the Life and Music of Sonny Rollins. This is a free community event. In collaboration with the Hartford Jazz Society. 
"A revealing, comprehensive biography… [and] a brimming and organized compendium, something to keep returning to like Rollins's records…" ― New York Times

"[Author Aidan Levy] distills essential truths… and ties strands of Mr. Rollins's history together in poignant ways."―Wall Street Journal

"An incredibly deep, well-researched and thoughtfully written biography." ―DownBeat
Sonny Rollins has long been considered an enigma. Known as the "Saxophone Colossus," he is widely acknowledged as one of the greatest jazz improvisers of all time, winning Grammys, the Austrian Cross of Honor, Sweden's Polar Music Prize and a National Medal of Arts. A bridge from bebop to the avant-garde, he is a lasting link to the golden age of jazz, pictured in the iconic "Great Day in Harlem" portrait. His seven-decade career has been well documented, but the backstage life of the man once called "the only jazz recluse" has gone largely untold—until now.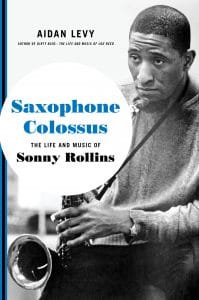 About Aidan Levy
Aidan Levy is the author of Saxophone Colossus: The Life and Music of Sonny Rollins and Dirty Blvd.: The Life and Music of Lou Reed, and editor of Patti Smith on Patti Smith: Interviews and Encounters. A former Leon Levy Center for Biography Fellow, his writing has appeared in The New York Times, The Village Voice, JazzTimes, The Nation, and elsewhere. He is a doctoral candidate at Columbia University in the Department of English and Comparative Literature, where he has served as co-convener of the African American Studies Colloquium and works with the Center for Jazz Studies. For ten years, he was the baritone saxophonist in the Stan Rubin Orchestra. He lives with his family in Lancaster, Pennsylvania.

About Tom Reney
Tom Reney is the producer/host of Jazz à la Mode on New England Public Media. Tom was honored by the Jazz Journalists Association with the Willis Conover-Marian McPartland Award for Career Excellence in Broadcasting in 2019. In addition to hosting Jazz à la Mode since 1984, Tom writes the jazz blog and produces the Jazz Beat podcast at NEPM. He began working in jazz radio in 1977 at WCUW, a community-licensed radio station in Worcester, Massachusetts. Tom holds a BA from the University of Massachusetts, Amherst, where he majored in English and African American Studies.