Home

Education

Film Field Trips

Favela Rising
---

Experiencing new ideas through film.
History and creativity come alive for visiting students.
---
---
---
---
---
---
Title: Favela Rising
Grade Range: 10th grade – adult
Duration: 80 minutes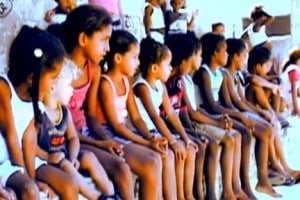 ABOUT THE MOVIE
Favela Rising documents a man and a movement, a city divided and a favela (Brazilian squatter settlement) united. Haunted by the murders of his family and many of his friends, Anderson Sá is a former drug-trafficker who turns social revolutionary in Rio de Janeiro's most feared slum. Through hip-hop music, the rhythms of the street, and Afro-Brazilian dance, he rallies his community to counteract the violent oppression enforced by teenage drug armies and sustained by corrupt police.
DOWNLOAD A TEACHER'S GUIDE FOR THIS FILM (PDF)
"People working hard for their living in an honorable way, seeing the work ethic needed was inspiring…just because they were dealt a "bad" hand of cards, they never gave up on what was important to them."
– Bulkeley High School educator, Hartford, 5/2016