Home Learning and Engagement Eye On Video
---

Real Art Ways is accepting applicants for Eye on Video, a six-week immersive filmmaking program through the Greater Hartford Arts Council's Creative Youth Workforce. Learn the art of filmmaking from Master Teaching Artist, Tyler Macri, and create your own short film to be screened to the public, all while surrounding yourself with other creative artists.
• This summer we will be hosting 15 filmmaking apprentices in Eye On Video!
• Program Dates- June 27 – August 9, Monday, Tuesday, Thursday, Friday, 9:30am-3:30pm (Wednesdays off).
• Eligibility- All apprentices must be from the Greater Hartford area. Applicants must be between the ages of 15-20.
• Stipend- $100/week
• Program Details- Workshops will cover digital camera operation, screenwriting, editing, collaboration, and post-production. Each apprentice will create their own short film which we will premier in a film festival on Saturday, August 7.
If you have any questions please email our Learning & Engagement Manager, Cai Diluvio, at cdiluvio@realartways.org.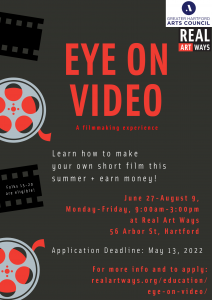 Trailer for 2020 "Eye on Video" Film Premiere: