Event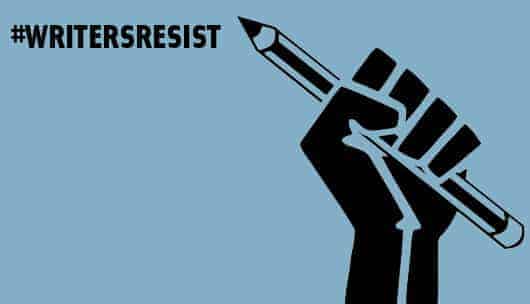 EVENTS
Writers Resist Hartford—Public Works: Our Voices Are Bridges
Real Art Ways is the venue for this event.
According to the event organizers, "On January 15, 2017, the birthday of Dr. Martin Luther King, Jr., writers across the United States and around the world will come together for Writers Resist, a 're- inauguration' of our shared commitment to the spirit of compassion, equality, free speech, and the fundamental ideals of democracy. Writers Resist events, large and small, will be held in dozens of locations throughout the world. Join us for readings by Hartford area writers."
Here is a list of participating readers:
Robert Rennie McQuilkin
Charles Fort
Srinivas Mandavilli
Melissa Wyse
Laura Mazza Dixon
Barbara LaFlesh
Nancy Otter
Esther McCune
Harper Follansbee
Christine Beck
Katie Irish
Catherine Hoyser
Johnathan Stolzenberg
Brent Terry
Garrett Phelan
Stephen Straight
John Stanizzi
Stanford Forrester
Dan Donaghy
JoAnne Bauer
Cindy House
Suzanne Frischkorn
Pit Pinegar
Kathy Carle
Joan Kantor
David Leff
Natiel Cooper*
Madyson Frame*
Isaac Guzman*
Jailene Pedraza*
Katja Prior*
*Writers Resist Young Writers Forum
The event serves as a fundraiser for the ACLU, which will have a representative attending the event.
"Writers Resist is not affiliated with a political party. At Writers Resist events, direct political discourse will be bypassed in favor of an inspired focus on the future, and how we, as writers, can be a unifying force for the protection of democracy. In order for us to heal and move forward, individually and as a nation, we believe people need something to rally around, and what better than the brave and powerful words of American writers, past and present. The thing we "resist" is that which attacks or seeks to undermine the most basic of our shared  principles: freedom and justice for all."
#WritersResist events are planned in Chicago, NYC, Baltimore, Boston, San Francisco, Portland (OR & ME), Seattle, New Orleans, Los Angeles, Omaha, Salt Lake City, Bloomington, Toledo, and many other cities and towns across the country.
For information, contact Disha Patel: dpatel@realartways.org
For more about #Writers Resist, visit writersresist.org