Event
FILM
Water Makes Us Wet - An Ecosexual Adventure
One-Time Showing
Stay after the film for Q & A with filmmakers Annie Sprinkle and Beth Stephens.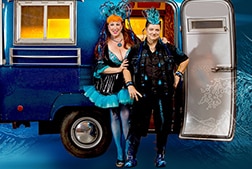 First viewed at documenta 14 and previously screened at MoMA, Real Art Ways presents an evening of film and conversation from an ecosexual perspective.
Former porn star and environmental activist film director, Annie Sprinkle and her partner and co-director, Beth Stephens, a queer artist/activist from the coalfields of West Virginia and an art professor, will present their latest film, Water Makes Us Wet. This film incorporates a poetic blend of curiosity, humor, sensuality, ecology and concern about water.
Beth, Annie and their dog, Butch, take a road trip to explore water in all its glorious forms, and along the way they interact with a very diverse group of folks who reaffirm the power of water, life, and love.
Stephens and Sprinkle coo that, "If you love and appreciate water, we think you'll really enjoy our film. Come dive in."
About Beth & Annie
Beth Stephens & Annie Sprinkle live and work together in Boulder Creeks's coastal redwood forest and in an old Victorian cottage in San Francisco.
Devoted to developing the ecosex movement through art, theory, practice and activism since 2004, they've produced numerous ecosex symposiums, ecosex weddings, workshops, lectures, walking tours, and art exhibits.
Their award winning documentary, Goodbye Gauley Mountain: An Ecosexual Love Story has played in numerous film festivals. Beth is an Art Professor at UC Santa Cruz, Annie has a Ph.D. in Human Sexuality.
They aim to make the environmental movement a little more sexy, fun and diverse. You can learn more about their work here.