Event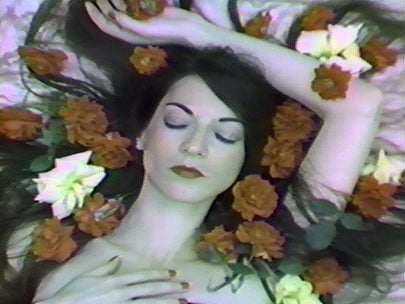 ARTS
Tubular Times: Camp, Horror, and Music Television: Video Art 1981-1993
Curated by Terri C. Smith
Photo credit: Possibly in MIchigan, 1983, Cecelia Condit, Courtesy Electronic Arts Intermix (EAI), New York.
Real Art Ways presents a curator talk with Terri C. Smith on her group exhibition;
Tubular Times: Camp, Horror, and Music Television: Video Art 1981-1993
The gallery walk through and talk will begin at 3:30pm on Saturday, December 9 – free admission.
During the talk, Terri C. Smith will give an informal walkthrough and description of the exhibition at 3:30pm for approximately 30 minutes. There will be time for questions with Smith until 5pm.
Real Art Ways presents a group exhibition of Video Art curated by Terri C. Smith
Tubular Times

is a group exhibition that features significant video art made from 1981-1993. The show also includes thematically related satellite installations with newer works by contemporary artists Am Schmidt and Willie Stewart. The historic component will be on view in the main gallery and black box room and will feature approximately twelve artists, including Peggy Ahwesh, Max Almy, Ericka Beckman, Dara Birnbaum, Cecelia Condit, Cecilia Dougherty, Ulysses Jenkins, Nam June Paik, Ann Magnuson, Pipilotti Rist, Willie Stewart and Michael Smith.
The exhibition is inspired by Vestron video, which was a production company and VHS 
distributor located in Stamford, Connecticut in the eighties and early nineties. Sharing qualities with Vestron's catalog of B-horror, music video, and campy humor, many of the works in Tubular Times layer comedy, horror, and music to address 1980s political themes in the U.S., including the AIDS crisis, a growing wealth gap, and Reagan-era backlash to the civil liberties of the 1960s and 1970s. The show's title references: cathode-ray tube (CRT) televisions used in the 1980s; that decade's saying "totally tubular"; and phonetically suggests the word turbulent. 
1981 was the first year of MTV and the first year of the AIDS epidemic, setting much of the tone for a decade. It's not surprising, then, that the video art of the 1980s exhibited a unique mix of urgency, desperation, camp, and techno celebration. In the video art of that era, gender identity, a sense of life-and-death urgency, theatricality, satire, and experimental digital techniques coalesced. During this time, we see irreverent divergences from the conceptual video art of the 1970s which, while often addressing socio-political themes, was rarely directly influenced by television and movies. With cable television growing in the mid-1970s and being in sixty-percent of American houses by 1992 and with VHS bringing movies into the home, the topographies of entertainment shifted dramatically during this time. Video editing also became more sophisticated, allowing artists to appropriate imagery from pop culture. 
Vestron's catalog was a mix of comedy, satirical spoofs, and thriller/horror genres. The company also was involved in music videos and released Making of Michael Jackson's Thriller. Vestron is best known for the film Dirty Dancing, but other movies they released include: quirky comedies like Earth Girls are Easy and The Princess Bride; horror movies such as Slaughter High and Horror Hill; and comedy-horror films such as Sundown: the Vampire Retreat and Lair of the White Worm. For some of the artists in
Tubular Times
, horror—a genre inextricably linked to VHS—becomes an allegory for the othering of the LGBTQ+ community as well as the systemic failure and loss of life during the AIDS crisis, which was further exacerbated by Reagan-era policies that centered cisgender, heteronormative, white, capitalist ideals. The resulting ethos of these videos is to varying degrees harrowing and hysterically funny.
Due to conflicting events, this exhibit will be closed on the following dates:
December 2nd, 2023
December 3rd, 2023
December 10th, 2023
January 7th, 2024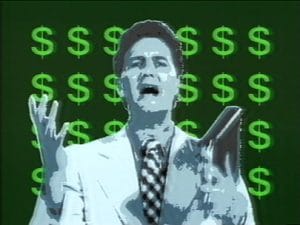 Max Almy, "Perfect Leader", 1983, Courtesy Electronic Arts Intermix (EAI), New York.
About the Curator
Terri C. Smith is a curator with more than twenty-five years of experience at accredited museums and small, nonprofit art spaces, curating approximately eighty contemporary exhibitions and receiving three, multi-year grants from The Andy Warhol Foundation for the Visual Arts, among other awards. She received national recognition for her work as the founding creative director of Franklin Street Works, an award-winning, critically recognized nonprofit art space that built community in and brought internationally exhibiting artists to Stamford, Connecticut from 2011 to 2020. Her practice often focuses on intersections of conceptual art and social justice themes as well as experimental art practices. Smith's exhibitions have received positive reviews in artcritical, Art Papers, Artforum, The Brooklyn Rail, Modern Painters, among others.